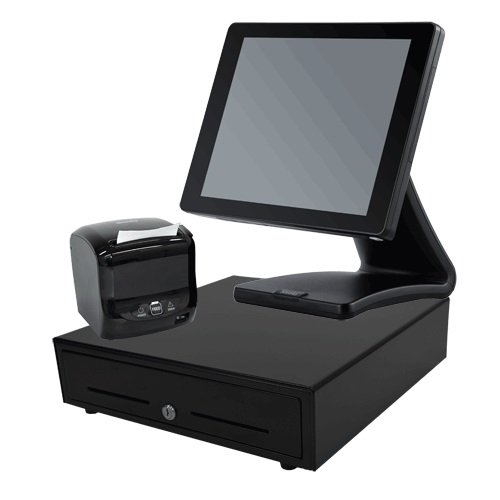 SAM4S TITAN S360B Bundle - Sam4s SPT360SB Titan 15" POS Terminal with Sam4s GT100 Receipt Printer & Goodson CD-410 Cash Drawer.
Brand: Sam4s
The Sam4s Titan Bundle includes a Sam4s SPT360B 15" Point of Sale Terminal with Windows POS Ready 7 Operating System, Sam4s GT-100 USB Receipt Printer & Goodson CD-410 Cash Drawer.
TITAN S360 Black Bundle:
1 x Sam4s Titan 15" POS Terminal with POS Ready 7 OS
1 x Sam4s GT100 USB Receipt Printer
1 x Goodons CD410 Cash Drawer with 5 Notes & 8 Coin Sections
Check out below for individual item specs.
sam4s spt-360 (sam4s titan s360)
The Sam4s SPT-360 Fanless Touch System with 15" PCAP Bezelfree Panel, J1900 up to 2.42G Quad core Processor, 2M cache, 4GB DDR3L RAM, 128GB SSD, Black with POSReady 7 64 bit Preloaded
It is ideal for Ideal for Retail, Hospitality and Ticketing.
Main Features:
Fanless Touch System
15" LED LCD Display with True-Flat PCAP Touch
Intel Bay Trail J1900 up to 2.42G Quad core CPU, 2M cache
Energy Efficient and Low Heat Generation Architecture
Slim Display, Sleek Chassis and Small Footprint Design
IP55 dust and water Proof Front Panel
Superior Serviceability and Easy Installation
Fanless Operation and No Ventilation Hole
Supporting M.2 SSD
Microsoft Azure certified
This product comes with a 2 year return to base (RTB) warranty.
SAM4S GT-100 Thermal POS Printer
SAM4S GT-100 Thermal POS Printer USB, RS232 & Ethernet Interfaces with Power supply, USB Cable & RS232 Cable. Black

Features:
Thermal POS Printer
250mm/sec Printing Speed
Compact Size/Small Footprint
Supporting USB+Serial, USB+WiFi and USB+Serial+Ethernet(3-Combo) Interface
Tool-less Design
2 Year Return to Base Warranty
Goodson CD410 Cash Drawer
The Goodson CD410 Cash Drawer is an economy drawer which has 5 notes, 8 coin sections and made from steel. It is designed with a RJ12 cable connection which plugs directly into any receipt printer.
The CD410 Cash Drawer can open via Receipt Printer or Manually Opened by Key
FEATURES
Metal note clips
410 (w) x 420 (d) x 110 (h)
Media slots
5 note, 8 coin
Adjustable insert
Removable coin boat
3 Month Warranty