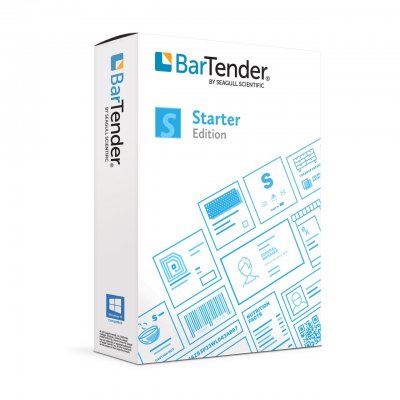 BTS-1
BarTender 2022 Starter Edition Single License
BarTender 2022 Starter Edition Single License
$549GST Inc
All about BarTender Label Printing Software
BarTender Label Design & Printing Software enables organisations around the world to improve safety, security, efficiency, and compliance.
CREATE - Use their exclusive Intelligent Templates™ to easily create and maintain an array of flexible designs.
AUTOMATE - Combine forms, actions and system integrations to build a powerful automated printing solution.
MANAGE - Monitor, secure and control your complete printing environment at sites around the world.
There are three main editions of BarTender software which include Professional, Automation & Enterprise.
Professional Edition
Ideal for departments and small businesses, the BarTender Professional Edition offers the same easy interface as the Free Edition, includes RFID encoding, and enables you to leverage content from databases, spreadsheets and other files for sophisticated label and card designs.

Automation Edition

Ideal for businesses that rely on speed and accuracy, the BarTender Automation Edition gives you the tools to build flexible label and document printing applications that integrate with your current business systems.

Enterprise Edition
Ideal for businesses that operate in heavily regulated industries or span multiple locations and need to control design and printing throughout the organisation.
If you have any questions or require further information about BarTender Label Software here in Australia, please feel free to contact our POS Team via phone, email or online chat.