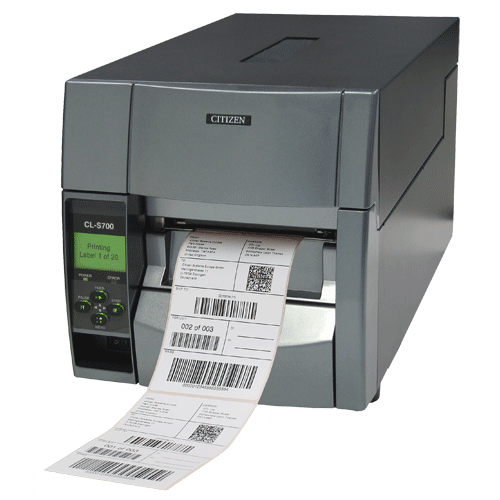 Citizen CL-S700 Direct Thermal Label Printer with Serial & USB Interface
Brand: Citizen
Citizen CL-S700 Label Printer
All Citizen label and barcode printers are designed with ease of use in mind and our new CL-S700 printer is no exception.
In fact, we believe we have exceeded even our own high standards with our latest design.
With its Clam Shell heavy duty Printer mechanism, it is a very robust label printer for many Factory & Warehouse applications.
FEATURES
Easy ribbon loading: Hi-Lift(TM) metal mechanism opening to a full 90? to allow for easy ribbon access
Heavy duty metal case for strength and durability
Ribbons up to 450 metres long either inside or outside wound with ARCP(TM) ribbon control
Power switch is conveniently located at the front of the printer
Large graphic LCD for clear indication of printer status and easy printer configuration
Soft-close top cover for user safety and user courtesy
Parallel, serial and USB interfaces standard
;
optional Ethernet and Wireless LAN
Cross-Emulation(TM): Supports both Datamax(R) and Zebra(R) emulations and will sense the language being used and offer to switch emulations automatically
Drivers: Ships with Windows(TM) 2000, XP, and Vista drivers
Media capacity: Internal 203mm (8-inch) media capacity