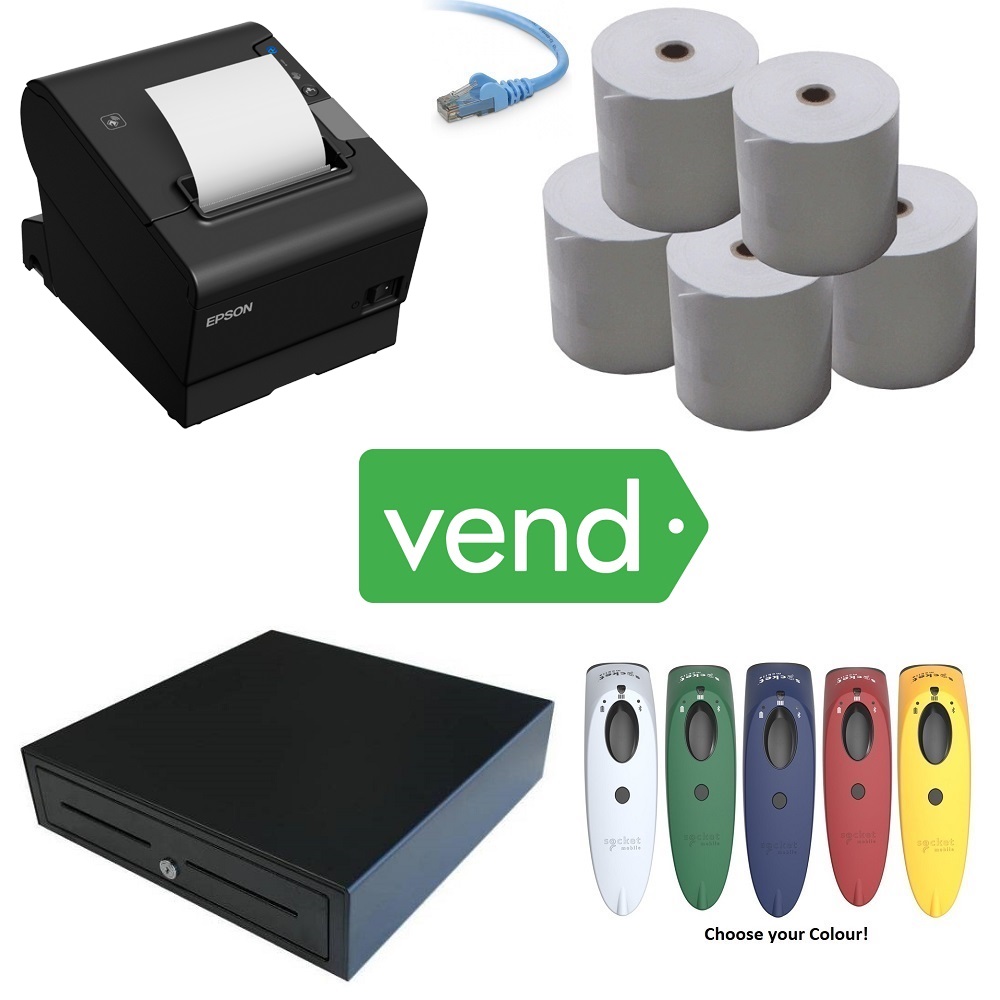 Vend Hardware Bundle 5 - Epson TM-T88VI Printer (USB & Ethernet), Cash Drawer & Paper Rolls
Brand: Vend
This Vend Bundle is a premium supported Point of Sale Hardware bundle compatible with Vend on any operating System.

This is compatible with iOS, Android & WIndows. It is designed to be connected to an Internet Router via LAN Cable.
Premium POS Hardware Bundle for Vend Point of Sale Software. Vend POS Hardware Bundle #5 comes with TM-T88VI Printer, Cash Drawer, Socket S700 Scanner & Paper Rolls.
You connect this printer directly to your Router or Model via Cable. The cash drawer connects to the receipt printer and you are ready to setup your Vend Software. You can also use the USB connection if you want to connect directly to your Windows or Mac PC.
The Bundle Includes:
1 x Epson TM-T88VI Thermal Receipt Printer with USB & Ethernet Interface.
1 x Socket S700 1D Bluetooth Barcode Scanner - Choice of Colours
1 x Cash Drawer with 5 Notes & 8 Coin Sections
1 x Box 80x80 Thermal Paper Rolls (24Qty)
Check out the below detail for individual product specs!
Epson TM-T88VI Thermal Receipt Printer
The Epson TMT88VI (TM-T88VI) is the latest member of the Epson POS Printer Family. This Thermal Receipt Printer comes standard with USB, Serial (RS232) & Ethernet (LAN) Interfaces as standard.
Reliable, fast receipt printer with mobile connectivity, which makes it easy to add web and mobile POS services to a traditional PC-based POS system.
The TM-T88VI is Epson's new state-of-the-art receipt printer, designed to work with both traditional PC-based POS systems and increasingly popular web and tablet solutions.
Versatile
The versatile Epson TM-T88VI receipt printer offers retailers, restaurants, bars and other commercial businesses the chance to explore web and mobile POS solutions without losing the functionality of a traditional PC-based system, as both can be run in parallel.
High performance and low running costs
As well as flexibility, the TM-T88VI gives outstanding performance, with print speeds of up to 350mm/s, and excellent reliability. A backward paper-feeding function helps save paper without affecting performance, reducing running costs and paper waste.
Flexible connectivity
Server Direct Print functionality allows the TM-T88VI to print direct from a web server. It also supports beacons, to help mobile devices identify the nearest printer, making it ideal for POS environments with multiple printer installations, while NFC support makes it easy to pair tablets, smartphones and other mobile devices.
Compact desktop
The TM-T88VI has exactly the same footprint as the TM-T88V, allowing you to upgrade to a brand new system without having to rearrange your counter space, and is available in both black and white to suit any shop, bar or restaurant decor.
What's in the Box?
Thermal Paper Roll (one)
Waterproof power button cover
Rubber feet for vertical installation
Control panel sheet for vertical installation
58mm width paper guide
External power supply (Model: PS-180)
CD-ROM (Drivers, Utility Software, Manuals)
Setup guide
VPOS EC-410 Cash Drawer
The VPOS EC-410 Cash Drawer is a solid steel cash drawer perfect for all Point of Sale Environments. By adding the under counter brackets you can easily mount the drawer giving extra security and make the installation neat & tidy.
MAIN FEATURES
Solid Steel Construction - 5 Note Holders, 8 Coin Slots
2 Cheque/Media Slots
Steel Runners & Derlon Rollers
24V Solenoid - Designed for connection to receipt printers
1.6M Cable with RJ12 plug (Standard Receipt Printer Connector)
Black Colour Only
Dimensions: 410mm (w) x 415mm (d) x 110mm (h)
Can connect to Receipt Printer or Manually Opened by Key
3 Year Return To Base Warranty
Socket S700 1D Bluetooth Barcode Scanner
Socket S700 / SocketScan® s700
The Socket S700 Barcode Scanner is a Wireless Bluetooth 1D Imager ideal for retail POS, field service, inventory management, asset tracking and more.
The SocketScan S700 1D barcode scanner with Bluetooth wireless technology scans on paper or screen. It has a light-weight, ergonomic structure, and a long-lasting battery to withstand entire work days. The five color options fit most styles and environment needs. The LEDs for battery, Bluetooth and scanning notifications make the scanner more intuitive to use. Compatible with all applications in previous Socket Mobile barcode scanners, without software changes.
This scanner is dressed to impress both consumers and end users in retail and office settings. Ideal for retail POS, field service, inventory management, asset tracking and more. Use our Companion App for easy set up and configuration.
Features
Bluetooth Wireless Technology - Connects easily to a wide range of Bluetooth enabled smartphones, tablets, notebook and desktop computers
Scanning - Reads all common 1D / linear and stacked barcodes up to 13" (33 cm) away
Exceptional ergonomics - Small, lightweight, and fits perfectly in the hand for comfortable use over extended periods
Long Lasting Battery – Power to last over 16 hours
User Indicators – Intuitive LEDs, beeps, and vibrations let users know battery, Bluetooth connection and scanning status
Protective Material - Made with antimicrobial material for protection against potentially harmful bacteria
Colour options - Blue, Green, Red, White, Yellow enables corporate branding personalization and is easy to find in busy work environments
Designed & made in the USA
No software installation required - use Bluetooth HID mode to function and behave similar to a keyboard
Advanced functionality – Leverage Application Mode functionality by integrating Socket Mobile's SDK in you APP. It improves business productivity with faster, efficient and reliable data transfer over Bluetooth
This product has a 12 Month Warranty.