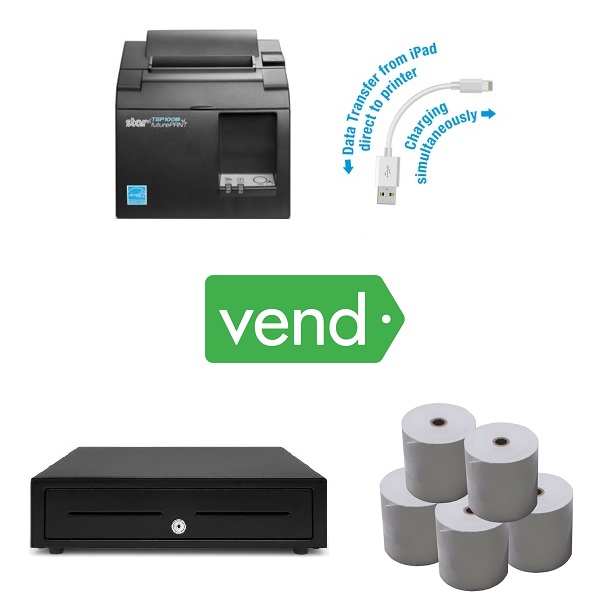 Vend Hardware Bundle 14 - Star Micronics TSP143III USB Receipt Printer, Cash Drawer & Paper Rolls
Brand: Vend
This particular Vend Point of sale Hardware Bundle is designed to connect directly to an iPad using the lightening cable which provides a great solution when a network is not available using Wifi or Bluetooth is not suitable solution. Having the iPad connect directly to the Receipt Printer also provide power for charging your tablet. 
Vend Point of Sale Hardware Bundle 
with
Star TSP143III USB Receipt Printer
, Cash Drawer and Box of Thermal Paper Rolls compatible with Vend POS Software.
Bundle Includes:
1 x Star TSP143III USB Receipt Printer
1 x Cash Drawer with 5 Notes & 8 Coin Sections
1 x Box 80x80 Thermal Paper Rolls (24Qty)
The USB Cable plugs directly into the Star TSP143III Printer to an Apple iPad for receipt printing and charging so NO Bluetooth or WiFi is required.Star TSP143III USB Receipt Printer
Star revolutionises POS terminal Device Choice with DIRECT iPad Receipt Printing via standard iPad /iPhone / iPod USB - lightning cable.
Today retailers and restaurateurs have the choice of the traditional POS terminal or new and innovative tablet POS providing the flexibility and mobility increasingly required within retail and hospitality environments.
However, concern for communication and connectivity issues has resulted in retailers being reticent to take advantage of the cost-savings of mobile tablet POS.Managing a large estate of multiple tablets and paired Bluetooth devices means that it can be operationally difficult to maintain the right connection between the right peripherals and devices.
The Star TSP143IIIU POS Printer changes all this.
As well as working with a traditional POS terminal, this printer can also connect directly to an iPad or iPhone using the Apple supplied lightning cable for reliable USB communication.
As a result, the usual Bluetooth or WiFi / wired LAN set-up issues around pairing, network infrastructure, connectivity etc. are eliminated.
SPECS AT A GLANCE
PRINT METHOD direct thermal / 203 dpi

INTERFACE USB 2.0 plus direct, unique data & simultaneous charging connection to iPad/iPhone/iPod with Apple supplied lightning cable

FAST 
250 mm/second print speed

DROP-IN 
& Print paper loading
NEW 
guillotine auto cutter (MCBF 2 million cuts)

CONVENIENT 
internal power supply

THIN 
paper capability (0.053 to 0.085mm)

NEW
AllReceipts Digital Receipting from Star Cloud Services
All STAR MICRONICS printers are covered by a twelve (12) month warranty including all parts and labour.

EXTENDED THREE (3) YEAR WARRANTY
Extended warranty registration MUST be completed within the standard 12 month warranty period to qualify for extension.
EC-410 Cash Drawer
The EC-410 Cash Drawer is a solid steel cash drawer perfect for all Point of Sale Environments. By adding the under counter brackets you can easily mount the drawer giving extra security and make the installation neat & tidy.
MAIN FEATURES
Solid Steel Construction - 5 Note Holders, 8 Coin Slots
2 Cheque/Media Slots
Steel Runners & Derlon Rollers
24V Solenoid - Designed for connection to receipt printers
1.6M Cable with RJ12 plug (Standard Receipt Printer Connector)
Black Colour Only
Dimensions: 410mm (w) x 415mm (d) x 110mm (h)
Can connect to Receipt Printer or Manually Opened by Key
3 Year Return To Base Warranty
Star Micronics TSP100III Receipt Printer
Connect the Star TSP143III USB Receipt Printer directly with your iPad