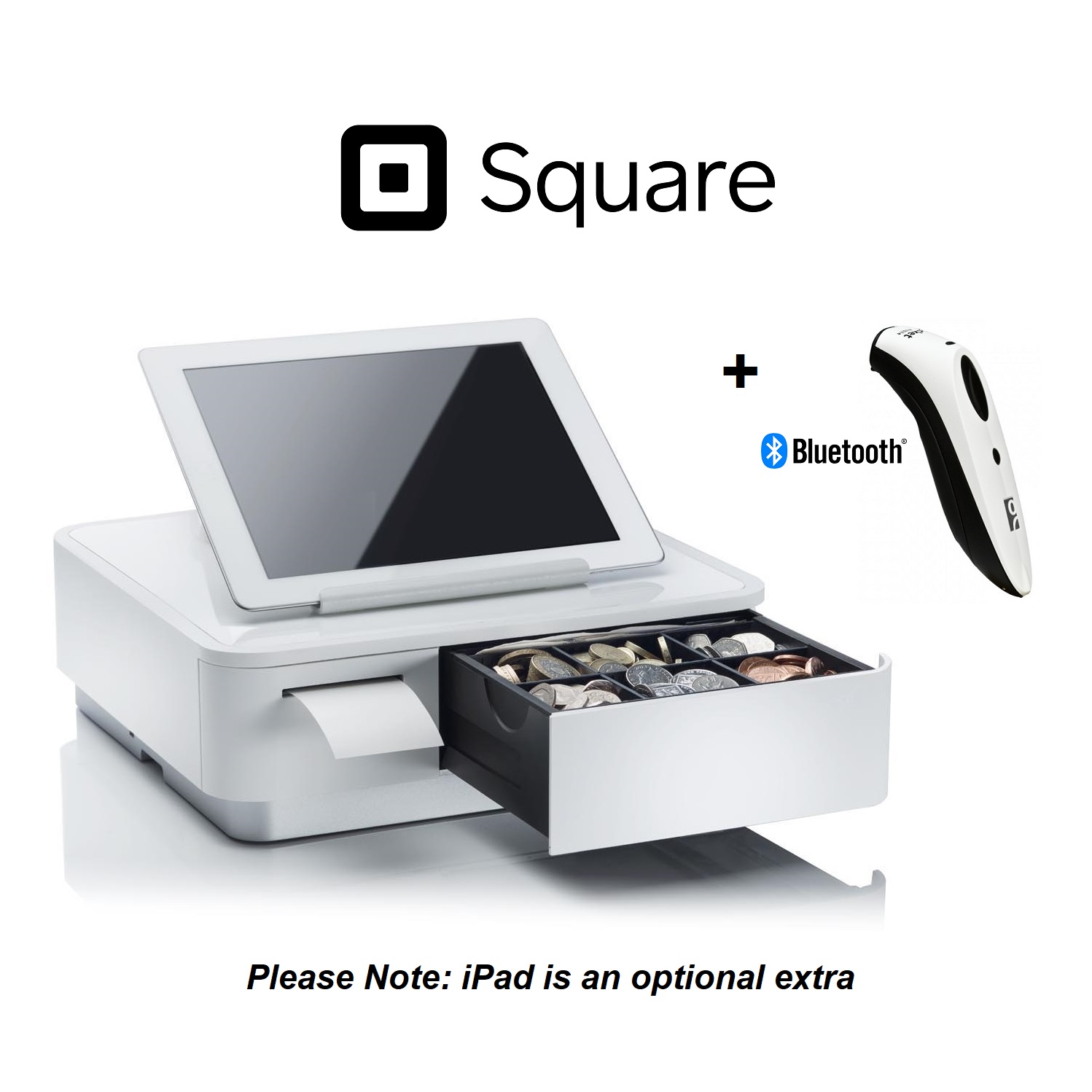 Square POS Hardware Bundle #15 - Star Micronics mPOP Printer & Cash Drawer Combo + Socket S700 1D Bluetooth Barcode Scanner White
Brand: Square
Square POS custom Hardware bundle 15 comes with a Star Micronics mPOP Cash Drawer & Printer Bluetooth Combo plus a SocketScan S700 White Barcode Scanner. 
This bundle is compatible with the Square Point of Sale App for iPad (iOS) 
Scan barcodes with Square from your iPad with this POS Hardware Bundle! We have put this customised bundle package together for use with the Free Square Point of Sale App.
This bundle includes:
1 x Star Micronics mPOP Cash Drawer & Printer Combo White
1 x SocketScan S700 1D Bluetooth Barcode Scanner White
Check out below for individual item specifications!

Star Micronics mPOP White
The Star mPOP Cash Drawer is a bluetooth cash drawer and 58mm receipt printer combination which is a great mobile point of sale solution.
Unique mobile point of purchase solution for merchants requiring Bluetooth printer and cash drawer to link with their choice of mobile device

Ultra compact design with advanced cable routing to maintain sleek design
Reliable 58mm wide 100mm/second printer with easy top paper loading and auto-cutter as standard.
Functional compact cash drawer with fast drawer release, multi-configurable note and coin slots
Classic Bluetooth connectivity compatible with Android, Apple iOS, Linux and Windows devices.
Clear LED display for status information such as paper low, Bluetooth pairing status etc.
Multiple USB ports for external devices and peripheral charging
Secure counter clip, under counter mount and 3rd party Kensington lock facility
In the mPOP we've created something that's aesthetically simple and elegant, yet loaded with intuitive design features. At just 10cm high and 30cm wide the mPOP is easily transportable, whilst the Bluetooth cable means only one mains cable is needed for operation.
mPOP works with all major operating systems including Apple iOS, Android and Windows, giving customers the freedom to use the platform what works for them.
The multiple functions and connectivity of the mPOP make processing customer translactions smooth and effortless for outlets such as bars, cafe's, retail outlets and pop up stores. The sleek design will complement any counter top or the mPOP can alternatively be secured under the counter available to purchase separately.
SPECIFICATIONS
Printer 2" direct thermal with front loading design

Print Speed 100mm/s

Paper Roll Width: Diameter Paper Thickness Print Area Paper Load Thermal roll paper 58mm50mm0.053 - 0.075mm54mm or 48mm (software adjustable) Drop-in front presentation

Cash Drawer 4 upright note holders and flexible 6 or 8 coin slots

Lock Key Software controlled lock with emergency lock release

Internal Power Supply Energy Star

mPOP Case Colour White & Silver / Black & Silver

Interface Bluetooth 2.1 & USB

Status LEDs Yes (power, error, bluetooth pairing etc.)

Operating System iOS / Android / Windows

Emulation Star Line Mobile Mode

USB Port 1 slave USB port, 2 x 0.5A USV host, 2 x 1.5A USB host for external device charging / peripherals

Sensors Cover open, paper end

External Dimensions 308 x 300 x 100mm (w x d x h)

Weight 3.5kg

Included in Box Simple double sided stand, mPOP fixing tool, AC cable, Paper roll.
Please Note: Tablet is NOT included
SocketScan S700 Bluetooth Barcode Scanner White
The Socket S700 Barcode Scanner is a Wireless Bluetooth 1D Imager ideal for retail POS, field service, inventory management, asset tracking and more.
The SocketScan S700 1D barcode scanner with Bluetooth wireless technology scans on paper or screen. It has a light-weight, ergonomic structure, and a long-lasting battery to withstand entire work days. The five color options fit most styles and environment needs. The LEDs for battery, Bluetooth and scanning notifications make the scanner more intuitive to use. Compatible with all applications in previous Socket Mobile barcode scanners, without software changes.
This scanner is dressed to impress both consumers and end users in retail and office settings. Ideal for retail POS, field service, inventory management, asset tracking and more. Use our Companion App for easy set up and configuration.
Features
Bluetooth Wireless Technology - Connects easily to a wide range of Bluetooth enabled smartphones, tablets, notebook and desktop computers

Scanning - Reads all common 1D / linear and stacked barcodes up to 13" (33 cm) away

Exceptional ergonomics - Small, lightweight, and fits perfectly in the hand for comfortable use over extended periods

Long Lasting Battery – Power to last over 16 hours

User Indicators – Intuitive LEDs, beeps, and vibrations let users know battery, Bluetooth connection and scanning status

Protective Material - Made with antimicrobial material for protection against potentially harmful bacteria

Colour options - Blue, Green, Red, White, Yellow enables corporate branding personalization and is easy to find in busy work environments

Designed & made in the USA

No software installation required - use Bluetooth HID mode to function and behave similar to a keyboard

Advanced functionality – Leverage Application Mode functionality by integrating Socket Mobile's SDK in you APP. It improves business productivity with faster, efficient and reliable data transfer over Bluetooth

This product has a 12 Month Warranty.