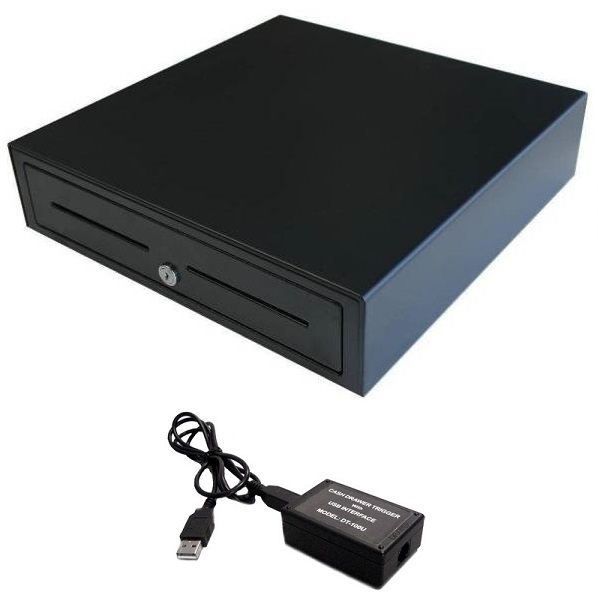 Simtek SD-410 USB POS Cash Drawer Black
Brand: Cash Register Warehouse
The Simtek SD410 USB Cash Drawers is a combination (bundle) of the Simtek SD410 Cash Drawer & DT100U USB Trigger.
This is an alternate to a serial cash drawer as not many computers these days have a serial/rs232 port available. This trigger works using a "virtual comm" port.
The Simtek SD-410 Cash Drawer along with the DT-100U Cash Drawer trigger gives you a USB Cash Drawer with a Virtual Comm Port providing a perfect solution for those using MYOB, Quickbooks, Control Professional and all other POS Software that requires a Virtual Comm (Serial) Port to work.
Simtek SD410 Cash Drawer

The Simtek SD-410 Cash Drawer has 5 notes, 8 coin sections and made from high quality robust steel and designed to withstand even the most demanding point of sale environments.
Simtek SD-410 Cash Drawer opens via Receipt Printer but can also be Manually opened by key.
FEATURES
Metal note clips

410 (w) x 420 (d) x 100 (h)

Media slots in Front of Drawer

5 note & 8 coin sections

Adjustable Drawer Insert

Removable coin boat/Money Tray

Can connect to Receipt Printer or Manually Opened by Key

Mounting bracket available.

2 Year Warranty
DT-100U USB CASH DRAWER TRIGGER
The DT-100U Cash Drawer Trigger is designed to provide USB interfacing to the cash drawer. This allows the cash drawer, which was previously connected to POS printer or cash register, to be directly connected to a USB port of the computer. This means that through the DT-100U, the cash drawer can be directly connected to the computer when there is no printer used in the POS system.
The DT-100U USB Trigger Module uses a Virtual Serial Port Driver, making it appear to software like a standard RS232 Serial Port. The existing POS Software can communicate with the USB Cash Drawer Trigger as though connected to a Serial Port. A unique serial number is assigned to each USB Trigger Module and the Driver Software will assign the next available Serial Port to each device it recognizes (multiple Triggers can be used on one PC).
DT-100U USB Drawer Trigger will suit RJ11 Cash Drawer Interface (Telephone Port Style Connector)
Please note: These triggers are compatible with a Windows PC only. It is not compatible with Square.