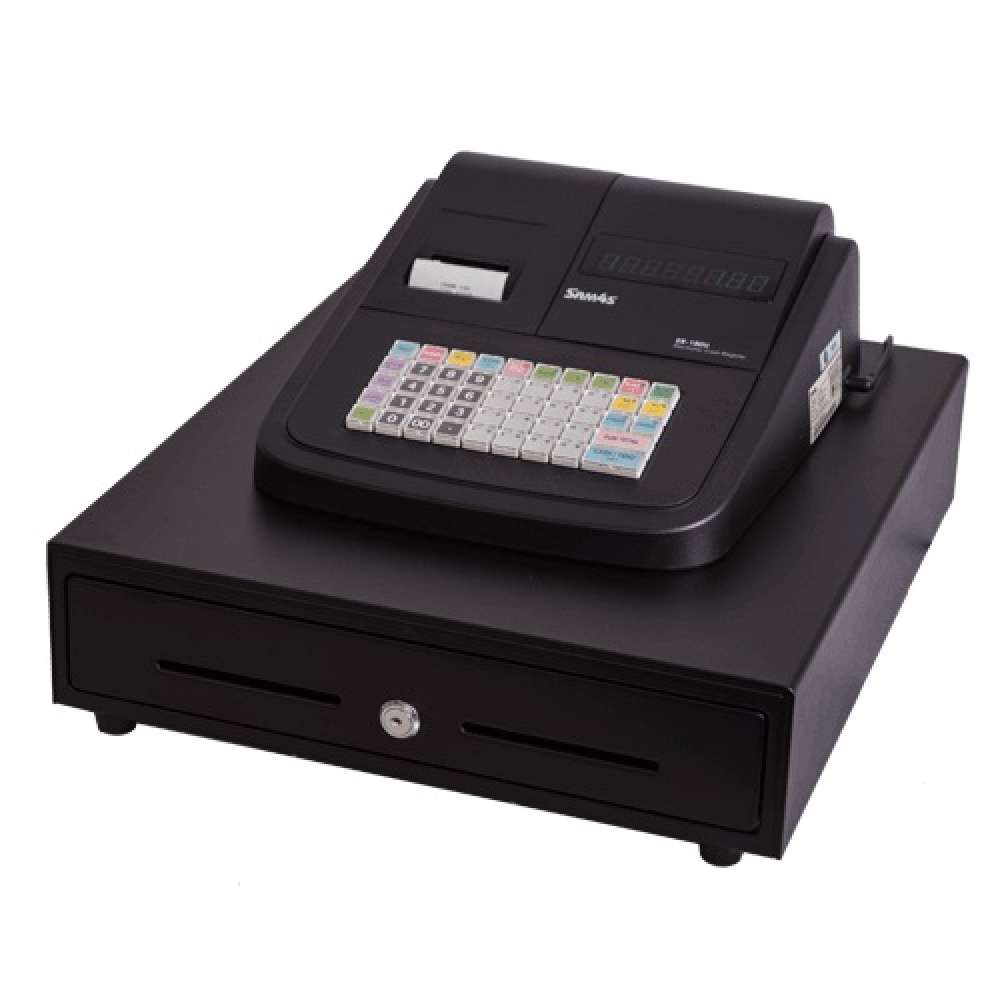 Sam4s ER180UDL Cash Register with Large Cash Drawer
Brand: Sam4s
The Sam4s ER-180UDL Cash Register has 16 Programmable Department Keys, Customer Display & Single Station Thermal Printer Unit. You can program your business name on the receipt and it also has a full sized large cash drawer with 4 Notes & 8 Coin Sections.
The Sam4s ER-180UDL Cash Register has a full sized (Large) metal cash drawer with 4 notes and 8 coin sections. It replaces the ER-180TDL.
The ER-180UDL targets the small retail and hospitality sector. With more powerful features than is predecessor, the ER-180UDL is an excellent entry level cash register.
Main Features
Thermal Receipt Printer - Prints Department Names and Receipt Message on customer receipt

16 Departments & 500 PLU (Price Look Up)
Receipt On/Off Feature - Issue Receipt when customer requires only so you don't waste paper

Raised 48 Keys and Key-cap option

Large 8 digits LED Display for Operator and Customer
Mode Button - No physical keys required.
Large Metal Cash Drawer with 4 Notes & 8 Coin sections

Easy Operation and Reports

Programmable Descriptors for Department and receipt header

Dimensions: 400mm (w) x 450mm (d) x 215mm (h)

Weight: 8.12Kg
The ER-180U only operates in receipt mode as it does not come with a journal spool or motor. Printer can be switched off to issue a receipt only when required.
Do you need your cash register programmed?
When you select the programming option on the right of this page to yes, our service team will completely setup your cash register before we ship it.
This includes: Receipt Message, PLU's (Items)/Departments, Key Button/Keyboard Design, GST Programming & Graphic Logo (If the machine is compatible).
Programming charges vary depending on the cash register you choose.
You can either email your menu to us or we will contact you to discuss what we require.
Paper Rolls Used: 57x57 Thermal Paper Rolls (50 Rolls)
This product has a 12 Month Return to Base Warranty.