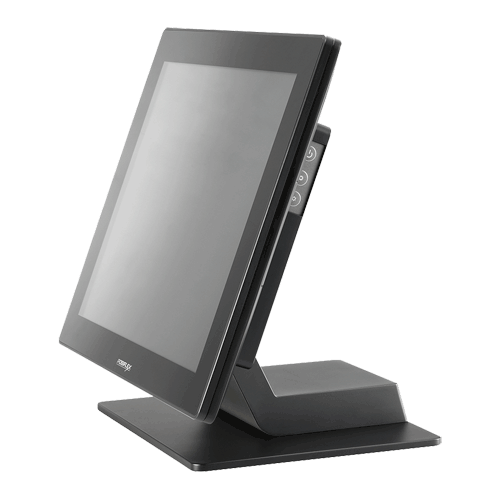 Posiflex RT-2015 15" Touch Screen Point of Sale Terminal with Windows 10 Operating System
Brand: Posiflex
Posiflex RT-2015 15" POS Terminal with Windows 10 IOT Operating System.
The Posiflex RT-2015 15" POS Terminal is a Super slim fanfree bezelfree PCAP touch terminal, Intel Bay Trail Celeron up to 2.42G J1900 Quad core, 2M cache, 4GB DDR3L, 128GB SSD, 3 x serial, 1 x USB3.0, 3 x USB2.0, 1 x LAN, 1 x VGA, 1 x Mini DP, WIN 10 IoT 64 Bit PreLoaded
The RT-2015 is a fanless POS terminal refined in every detail which is more powerful and slimmer and can be used for more applications. It features an ultra-slim 15 touch screen and sleek body which makes the unit stylish and space-saving. The RT-2015 is taking POS terminal design into the next level and setting your brand image apart from the others.
Slim Yet Powerful
In addition to an Intel Bay Trail processor embedded, the RT-2015 overcomes the limits to the size and features diverse I/O ports (hidden in the rear cover) which allow connection to various devices.
Clean Cable Management
Advanced cable management design delivers a truly clutter-free station. The standard base can also house the optional PoweredUSB module or USB extension module while retaining the sleek look.
Patented Fanless Technology
Easy to clean and very durable its front is dust and water resistant. The patented fanless technology allows the unit to run silently and provides a long service life.
Faster Installation and Serviceability
Rear cover can be easily and toolessly removed, which allows for faster installation and serviceability.
Main Features
Slimline 15" Fanless Touch POS Terminal

Projective Capacitive Touch screen (PCAP)

15" LCD 1024 x 768 resolution

Intel J1900 Quad Core CPU up to 2.42 GHz 2M Cache and DDR3L memory

Fan-free design boasting quiet and anti-dust features

Clean Cable management

Aluminium die-cast main housing design for efficient cooling

This product has a 3 year Return to Base Warranty