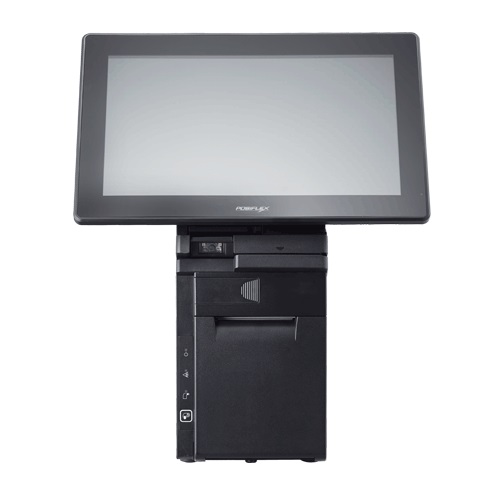 Posiflex HS-3514 14" Touch Screen POS Terminal with in-built Receipt Printer & Windows 10 IOT Pre-installed
Brand: Posiflex
Posiflex HS-3514 14" All-in-One Touch Screen POS Terminal with In-built Receipt Printer. It comes pre-loaded with Windows 10 IOT Operating System.
POSIFLEX HS-3514 Terminal 4G 64G SSD WIN 10IoT 64b
Posiflex HS-3514 14" POS Terminal is an All-in-One Touch Screen with in-built 80mm Thermal Receipt Printer (3" 200mm/sec printer with auto cutter). The HS-3514 is fanless with PCAP (Capacitive Touch) touch screen panel. It also has an Intel Bay Trail Quad Core up to 2.42G, 2M cache, 4GB DDR3L, 64GB SSD, , WIN10 IoT 64 bit Preloaded
Main Features:
Fan free POS Terminal
14" LCD Display with PCAP Touch
Intel J1900 Quad Core CPU up to 2.42 GHz 2M Cache and DDR3L memory
All-in-one design
Small footprint
Build in 80mm high speed thermal Printer
Easy replaceable Printer Module
Optional build in RFID Reader, MSR, Contact Card Reader, Fingerprint module
Several Customer Display Options available
Comes with Bracket to lock down to bench for better stability
Specifications
CPU: Intel Bay Trail J1900 Qual Core 2GHz up to 2.42GHz, 2M cache
Memory: DDR3L 1333 MHz, SO-DIMM socket x 1, max 8 GB, default 4 GB
Storage device(s): In Australia standard with 64 GB SSD. Also Available with HDD or larger SSD on request
Display: 14" LCD Display
Resolution: 1366 x 768
Tilt Angle: 17 ~ 45°
Touch Panel: True-Flat PCAP touch with 10 point multi-touch support
I/O Ports:
3 x RS-232 interfaces; DB9 x2 & RJ-45 x1 with 5V or 12V support on COM1/COM2/COM3
4 x USB Ports: 1 x USB3.0/2.0 & 3 x USB2.0
1 x Parallel Port
1 x VGA Port for 2nd Display with 12V power for Posiflex Monitor
1 x Cash Drawer Port (Controls 2 drawers with optional Y-cable)
1 x 10/100/1000 Ethernet Port
1 x Mini-PCIe Slot
I/O Devices (Intergrated)
80 mm Thermal Printer, 200 mm/sec, with Auto Cutter, easy field replaceable
Optional:
MSR 3 tracks ISO or JISII HID/VCOM Selectable
Smartcard Reader
RFID Reader HID/VCOM Selectable
Fingerprint Reader
Mini-PCIe Wifi Module
AudioLine out Only
OS Installed: WIN 10 IoT
Environmental Sealing: IP65 to front of screen
Operating Environment: SSD: 0 °C ~ 50 °C, 20% ~ 90% Relative Humidity. HDD: 0 °C ~ 40 °C, 20% ~ 90% Relative Humidity
Storage Environment: -20 °C ~ 70 °C, 10% ~ 90% Relative Humidity
Power Supply: External Power Adapter 24V, 60W
External Dimensions (WxDxH): 376.1mm x 188.8mm x 473mm
Weight: 5.8 Kg
This product comes with a 3 year (36 Month) Warranty.