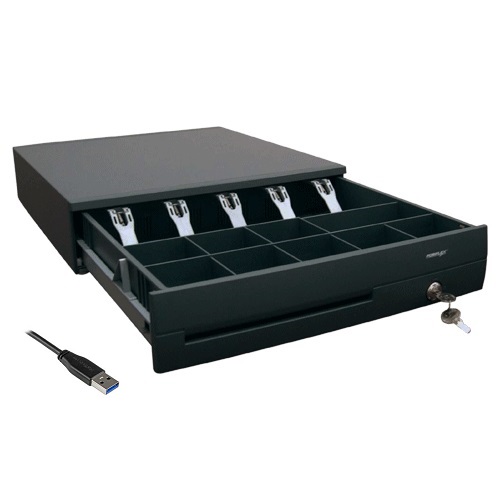 Posiflex CR-4105 Heavy Duty USB Cash Drawer
Brand: Posiflex
The Posiflex CR-4105 USB Cash Drawer provides both quality and security. The CR-4105 interface offers a "True USB" which you will need to ensure your POS Software can support before you buy this great drawer. Under Counter brackets are available so you can mount it under a bench or counter top.
The CR-4100 is a modern Posiflex cash drawer. It is wider, deeper and longer than the CR-3100. The CR-4100 comes with 5 coin and 5 bill fixed compartments. There is a coin roll storage compartment behind the bill compartments.
The CR-4100 has a "Screwless" tamper resistant design and a special feature cushions drawer slams and protects the system. The chassis and drawer have durable metal construction with high reliability and durability (MTBF over 1 million open/close).
FEATURES
Heavy Duty Metal Construction
3 Position Key Lock
Multiple key combinations
Screw-less tamper resistance design
5 Note/8 Coin, fixed coin section
Metal Note Clips
USB Connection (True USB - Not compatible to all POS Software)
Available in Black
This Model is the USB cash drawer (Or can be used as a stand-alone manual opening drawer)
Dimension: 428mm(W)x460mm(D)x100mm(H)
Please note: This drawer is not compatible to MYOB, Quickbooks or other POS Software that requires a Virtual Comm Port. Software that allows "True USB" is fine.