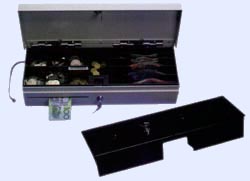 Norwood Cash Kassette with 5 Note & 8 Coin Compartments
Brand: Norwood Cash Drawer
Norwood Cash Kassette with 5 Note & 8 Coin Compartments
The Kassette is a robust and efficient solution to cash handling. The physical dimensions of the Norwood Flip Top Kassette make it very practical to transport, stack and store.
The Kassette opens upward, enabling the cashier to sit closer to the cash, concealing the contents from the client when open and when closed may be fitted to be a useful part of the flat working counter.
The Kassette may be activated electronically by a docket printer or manually by key. The media slot situated at the front of the drawer allows easy access for credit card slips and notes of high denominations, opening is not always essential.
Kassette boasts removable money tray 5 stand up note/8 coin compartments. Lockable steel lid is standard with each money tray, ideal for staff changes and safe storage, allowing convenient stacking.
The Norwood Flip Top Kassette is available in Charcoal with a Stainless Steel Lid.
Dimensions: 460mm(W) x 170mm (L) x 95mm (H)
Warranty: 3 Year Return to Base Warranty