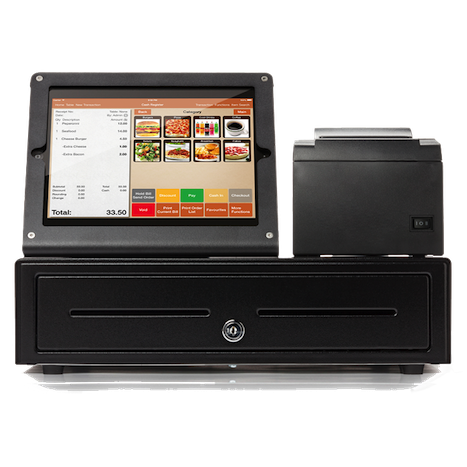 MobiPOS iPad POS Software for the Food & Service Industry - Cafes, Restaurants & Food Vans
Brand: MobiPOS
MobiPOS iPad Software - iPad Point of Sale Software
MobiPOS iPad Software
- iPad Point of Sale Software
Built specifically for food & service industry, our system is aesthetically designed. No training is required, start taking orders with just a few taps and orders will be sent to kitchen right away.
MobiPOS CloudSync
As an optional module, MobiPOS CloudSync gives you the ability to access detailed reports online.
Point of Sale
With continuous development, we be sure to grow together with your business needs.
Terminal
Equip your servers with mobile terminal, enable them to take order efficiently.
Integrated Payments
Choose from the list of partners we work with, accept different kind of cards including contactless payment like Apple Pay, Paypal Here, Tyro & more.
Table Management
Customise multiple table layout according to your restaurant. Table timers enables staff to turn table more efficiently.
Kitchen Display System
Eliminate paper printing, use your iPad to serve as a kitchen display. View open orders by table or time ordered. Upon completion, notify expedite screen.
Customer Display
Using a secondary iOS device, deliver product price and information to your customer. Obtain customer signature without the need of turning your POS to face customers.
Split Bills
Split bill by item, percentage or number or pax easily. System automatically bring up the previous bill, saving you the hassle to restart the split process again.
Inventory/Recipe
Inventory module allows you to control and track inventory in decimal quantity. For each product sold, system deduct inventory according to recipe provided.
Clock In/Out
Track employees clock in and out timing. Pay them according to the hours worked.
Loyalty/Rewards
Reward your customer with perks to keep them coming back.
Customer Relationship Management
Manage customer's email, birthday and address. Track their spending and assign different tier of membership discount.
Trial MobiPOS for Free
Download Mobi-POS iPad POS Software from iTunes