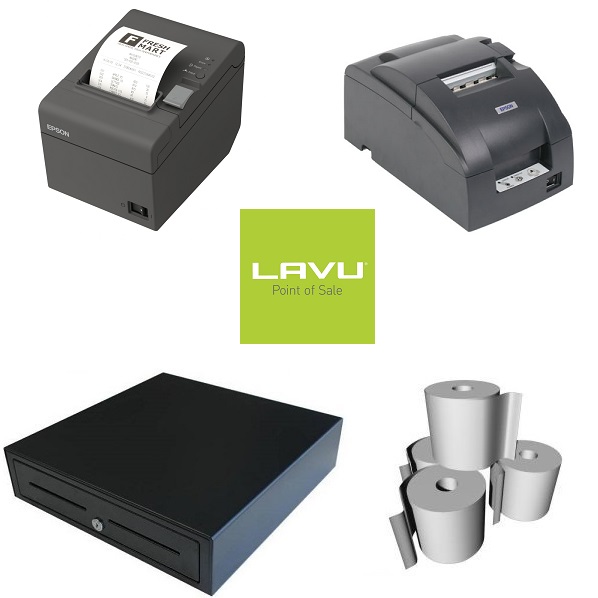 Lavu Hardware Bundle 2 - Epson TMT82II-i Intelligent Printer, Epson TMU220B Ethernet Printer, Cash Drawer & Paper Rolls
Brand: Lavu POS
The Lavu POS Hardware Bundle
is a perfect solution for Cafe, Restaurant or Bar Environments. The
Lavu Hardware
consists of Epson TM-T82II-i Intelligent Cloud Printer and Epson TM-U220B kitchen printer which is compatible with the Lavu Point of Sale Software. We also have included consumables with this bundle.
These devices are connected via Ethernet cable directly to your router/modem.
Lavu Bundle Includes:
1 x Epson TM-T82II-i Ethernet Intelligent Receipt Printer
1 x Epson TM-U220B Ethernet Dot Matrix Kitchen Printer
1 x Cash Drawer with 5 Notes &amp
;
8 Coin Sections
1 x Box 80x80 Thermal Paper Rolls (24Qty) - Suits Intelligent Printer
1 x Box 76x76 Bond Paper Rolls (50Qty) - Suits Kitchen Printer
Epson TM-T82II-i Intelligent Receipt Printer
The
Epson TM-T82II-i
Intelligent Cloud Printer provides users with a straight forward and elegant printing solution, with no need for drivers. Ideal for use with tablet PCs or mobile phones, the TM-T82II-i is simple to use and maintain, with the ability to print from any device running an HTML 5 compatible web browser. In addition, the TM-T82II-i has greyscale printing for the addition of logos and images to receipts.
KEY FEATURES
Supports printing from virtually any mobile / tablet device
Print via browsers : Print directly from HTML 5 browsers
No drivers needed : No drivers to install or update
Enables Cloud services without the need for legacy POS integration
Multi peripheral connectivity with up to 2 USB ports and 1 serial port
Controls peripherals from any mobile / tablet device
XML compatible : responds to web application commands
Fast print speed up to 200mm/sec and features print options to reduce paper usage
Industry-leading two-year warranty
Epson TM-U220B Dot Matrix Kitchen Printer
Epson TM-U220B receipt printer with Autocutter Printer Dark Grey with Ethernet Interface.
Epson's mPOS-friendly TM-U220 impact receipt and kitchen/bar printers are compact, reliable and optimized for high-speed throughput. They are designed to work right out of the box with mobile POS applications and can print directly from iOS, Android and Windows devices. In addition, they offer all the features important to the retail and food service including two-color printing for exceptions, right-side-up printing and crisp, clean logo printing.
Key features
Ethernet Interface
Includes Auto Cutter
mPOS-friendly printer compatible with iOS, Android and Windows mobile devices
DHCP enabled model available for easy IP/network configuration
Supports 802.11a/b/g/n with 2.4GHz/5GHz compatibility
Fast print speeds of up to 6.0 lps
Two-color printing for highlighting offers or order exceptions
Right-side-up printing for kitchen orders
Accommodates paper widths of 58, 70 or 76mm
ENERGY STAR qualified
*
Lavu iPad POS Software
Lavu Point of Sale is the world's leading mobile POS for restaurants and bars. The first iPad-based point of sale in the App Store, Lavu offers premier point-of-sale technology, designed exclusively for restaurants and bars.
Lavu iPad POS Software
used by thousands of restaurants in over 80 countries to be the backbone of their businesses.
Make your establishment moden with Lavu and say goodbye to slow service, misplaced orders, unclear sales data, and more.