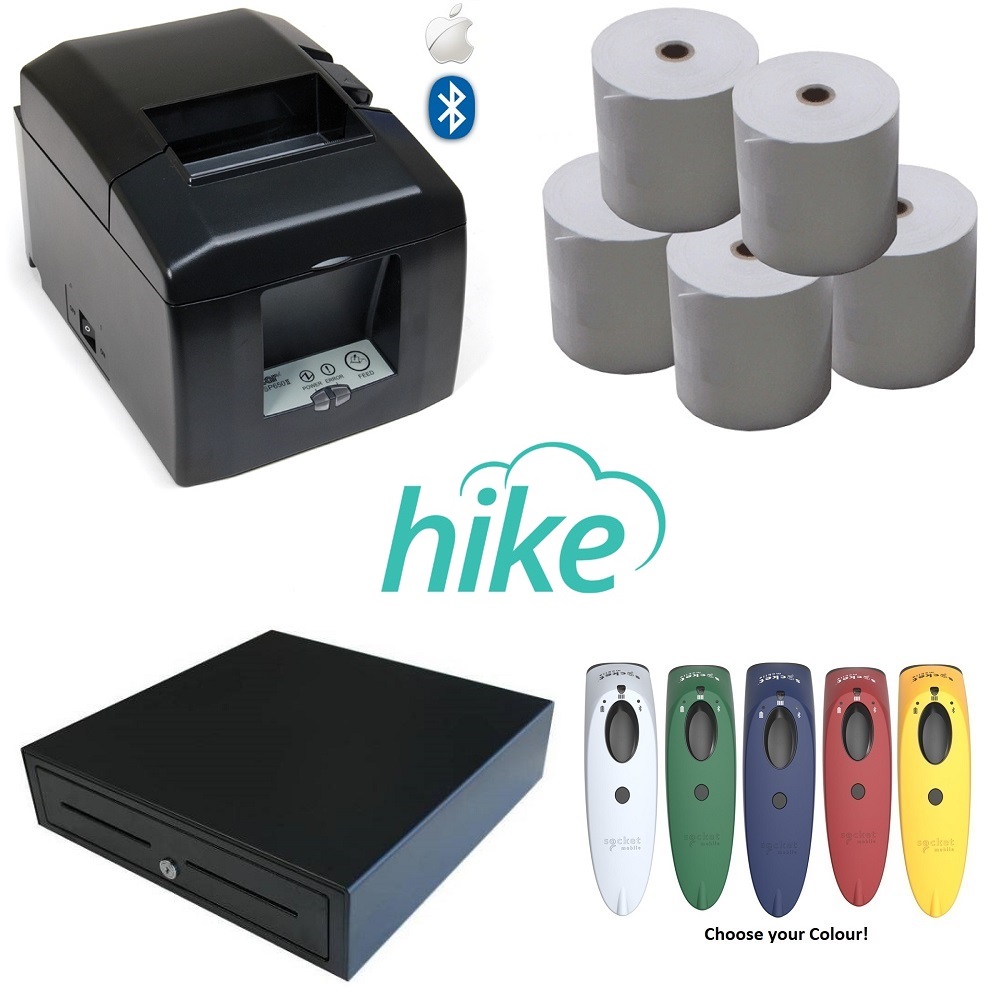 Hike Hardware Bundle 5 - Star TSP654II Bluetooth Receipt Printer, Socket Bluetooth Barcode Scanner, Cash Drawer & Paper Rolls
Brand: Hike
Hike Scanning Point of Sale Hardware Bundle recommended for iPad POS Registers using Hike POS Software.
Hike POS Scanning Hardware Bundle with Star TSP654II Bluetooth Printer, Socket Bluetooth Scanner, Cash Drawer & Paper Rolls which is compatible with the Hike POS software on iPad Registers.
This bundle includes:
1 x Star TSP654II Bluetooth Thermal Receipt Printer
1 x Socket S700 Bluetooth Barcode Scanner (Choice of colour)
1 x Cash Drawer with 5 Notes & 8 Coin Sections
1 x Box 80x80 Thermal Paper Rolls (24Qty)
Check out the below details for individual product specs
Star TSP654II Bluetooth Thermal Receipt Printer
The Star TSP654II (TSP654IIBI-24) boasts a lightning fast print speed of 60RPM (receipts per minute) (300mm/second). The TSP654II also features an improved Guillotine Cutter (2 million cuts), easy ?drop in and print? paper loading and a small footprint.
FEATURES
Bluetooth Desktop Receipt Printer
Apple MFi Certified
"JustWorks" SSP Profile
Small Footprint
High Speed: 300mm/ sec
Reliable Guillotine Cutter
Drop-In and Print Paper Loading
Free Shipping
What's in the Box
The TSP654II ships with Installation CD (printer driver/manuals), setup guide, wall mount bracket, vertical mount pads, 58mm paper guide, power switch cover, start-up paper roll and external power supply included in the box.
Warranty
All STAR MICRONICS printers are covered by a twelve (12) month warranty including all parts and labour.
EXTENDED THREE (3) YEAR WARRANTY
Extended warranty registration MUST be completed within the standard 12 month warranty period to qualify for extension.
Socket S700 Bluetooth Barcode Scanner
The Socket S700 Barcode Scanner is a Wireless Bluetooth 1D Imager ideal for retail POS, field service, inventory management, asset tracking and more.
The SocketScan S700 1D barcode scanner with Bluetooth wireless technology scans on paper or screen. It has a light-weight, ergonomic structure, and a long-lasting battery to withstand entire work days. The five color options fit most styles and environment needs. The LEDs for battery, Bluetooth and scanning notifications make the scanner more intuitive to use. Compatible with all applications in previous Socket Mobile barcode scanners, without software changes.
This scanner is dressed to impress both consumers and end users in retail and office settings. Ideal for retail POS, field service, inventory management, asset tracking and more. Use our Companion App for easy set up and configuration.
Features
Bluetooth Wireless Technology - Connects easily to a wide range of Bluetooth enabled smartphones, tablets, notebook and desktop computers
Scanning - Reads all common 1D / linear and stacked barcodes up to 13" (33 cm) away
Exceptional ergonomics - Small, lightweight, and fits perfectly in the hand for comfortable use over extended periods
Long Lasting Battery – Power to last over 16 hours
User Indicators – Intuitive LEDs, beeps, and vibrations let users know battery, Bluetooth connection and scanning status
Protective Material - Made with antimicrobial material for protection against potentially harmful bacteria
Colour options - Blue, Green, Red, White, Yellow enables corporate branding personalization and is easy to find in busy work environments
Designed & made in the USA
No software installation required - use Bluetooth HID mode to function and behave similar to a keyboard
Advanced functionality – Leverage Application Mode functionality by integrating Socket Mobile's SDK in you APP. It improves business productivity with faster, efficient and reliable data transfer over Bluetooth
This product has a 12 Month Warranty.
VPOS EC-410 Cash Drawer
The VPOS EC-410 Cash Drawer is a solid steel cash drawer perfect for all Point of Sale Environments. By adding the under counter brackets you can easily mount the drawer giving extra security and make the installation neat & tidy.
MAIN FEATURES
Solid Steel Construction - 5 Note Holders, 8 Coin Slots
2 Cheque/Media Slots
Steel Runners & Derlon Rollers
24V Solenoid - Designed for connection to receipt printers
1.6M Cable with RJ12 plug (Standard Receipt Printer Connector)
Black Colour Only
Dimensions: 410mm (w) x 415mm (d) x 110mm (h)
Can connect to Receipt Printer or Manually Opened by Key
3 Year Return To Base Warranty