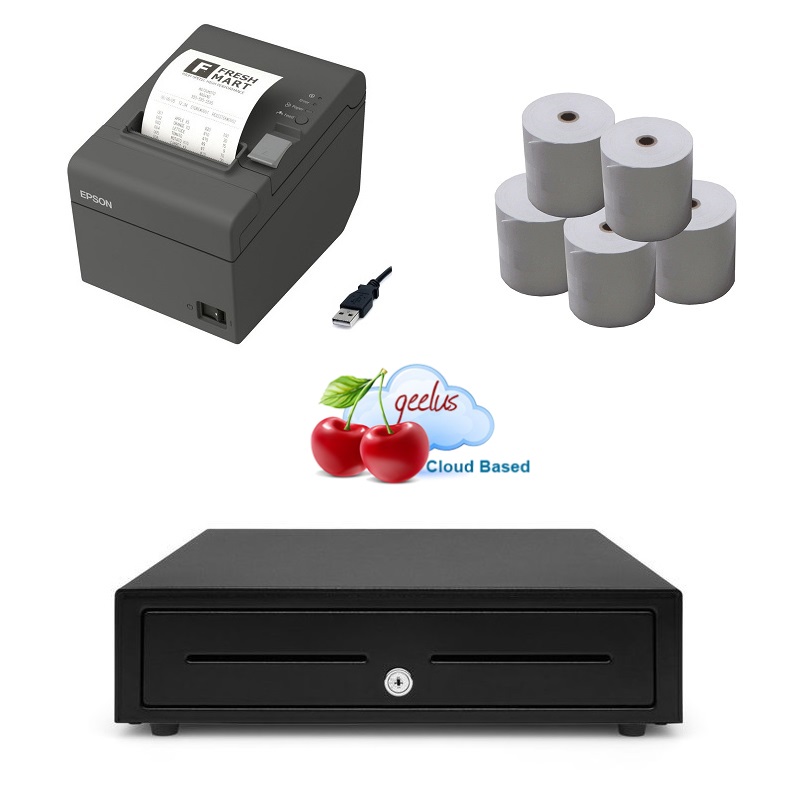 Geelus PC Bundle 2 - Epson TM-T82II USB Receipt Printer, Cash Drawer & Paper Rolls
Brand: Geelus POS
This Geelus PC POS Hardware Bundle is compatible with the Geelus Point of Sale Software for Dry Cleaning & Alterations.
Geelus POS Compatible Hardware Bundle to suit Geelus Point of Sale Software on a Windows platform. Geelus Cloud POS Software for Dry Cleaning & Alterations.
The Bundle Includes:
1 x Epson TM-T82II USB Receipt Printer
1 x Cash Drawer with 5 Notes & 8 Coin Sections
1 x Box 80x80 Thermal Paper Rolls (24Qty)
Check out below for individual product details.
Epson Receipt Printer
Epson's cost effective TM-T82II thermal receipt printer is built with the reliability, usability and functionality of Epson's industry leading TM-T88 series.
KEY FEATURES & BENEFITS
Ideal for customers with medium to low volume of POS transactions
All-in-one box with accessories and software
Printing speeds of up to 200mm/sec for text and graphics
Paper-saving options that reduce usage up to 30%
Flexible coupon printing on receipts
Features Epson quality and reliability
Quality you can count on

The TM-T82II is the ideal choice for retailers with a low volume of POS transactions. Based on Epson's advanced printing technology, it delivers the quality and reliability that Epson is known for, which ensures an easy, reliable printing solution for end users.
Fast printing with multiple options
The TM-T82II prints both text and graphics on receipts at speeds up to 200mm/sec. It also features crisp, clear printing of logos, coupons and barcodes. In addition, the TM-T82II offers paper saving options that can reduce paper usage by up to 30%.
All-in-one-box convenience
The TM-T82II comes with everything you need in one box for quick setup and installation. The box includes manuals, drivers, utilities, cables, external power supply and easy-to-use software tools to speed set-up and installation. This version comes with USB & Serial Interfaces.
Easy to use. Easy to maintain.
The TM-T82II comes with multiple ease-of-use features from drop-in paper loading and autocutter to status LEDs and more. And it also offers optional printer placements including horizontal or upright for front receipt dispensing or vertical wall placement using a special hanging bracket.
Features Epson reliability
With a MCBF of 60 million lines, a MTBF of 360,000 hours and an autocutter life of 1.5 million cuts, the TM-T82II delivers the reliability customers expect from Epson.
ENERGY STAR qualified
Epson's TM-T82II is ENERGY STAR qualified and RoHS compliant and features low power consumption to reduce costs.
Backed by the leader
The TM-T82II is backed by Epson's industry-leading service and support programs and comes with a 2 Year Return to Base Warranty.
Cash Drawer
The reliable and heavy duty Nexa CB-910 Cash Drawer is a 5 Note 8 coin POS Drawer with RJ12 Connector which can plug directly into the DK (Drawer Kick) port of a receipt printer.
Although this cash drawers is designed to open electronically, you can use the key to open it manually.
It's all metal construction with metal note clips media slots 3 position lock and a 2 year warranty make it hard to go past. Dimensions 410(w) x 420 (d) x 100 (h)
The Nexa CB-910 can open via Receipt Printer or Manually Opened by Key
FEATURES
Metal note clips
410 (w) x 420 (d) x 100 (h)
Media slots
5 note, 8 coin
Adjustable insert
Removable coin boat
Can connect to Receipt Printer or Manually Opened by Key
Mounting bracket available.
This product has a 2 year return to base warranty.
Geelus Dry Cleaning & Alteration Software