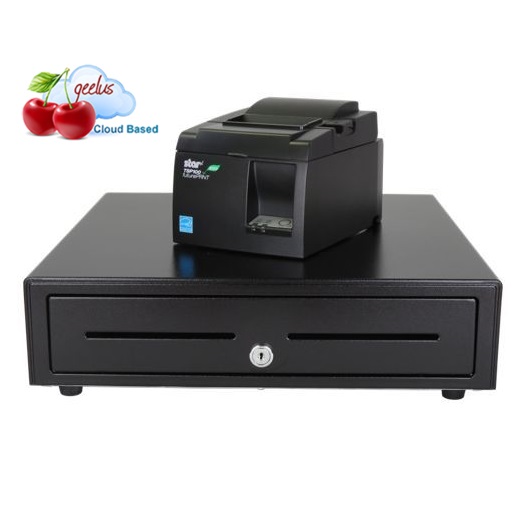 Geelus PC Point of Sale Bundle - Star Micronics TSP143III USB Receipt Printer & Cash Drawer. Compatible with Geelus POS Software.
Brand: Geelus POS
Geelus POS Compatible Hardware Bundle with Star TSP143III&nbsp
;
USB Receipt Printer &amp
;
Cash Drawer.
The Bundle Includes:
1 x Star TSP143III ECO USB Receipt Printer
1 x Cash Drawer with 5 Notes & 8 Coin Sections
The Star TSP100ECO receipt printer is the world's first ECO POS printer, further extends the legacy that is the TSP100 futurePRNT. The TSP100ECO supports Star's commitment to being ecologically responsible, while allowing Star to continue to provide a high-speed, software enriched, economical choice for users.
Features
High quality USB ECO POS printer, 150mm per second
Internal Power Supply
Plug and Play USB Drivers
Simple "Drop-In and Print" paper loading
All set-up accessories needed are included in the box at purchase
Unique futurePRNTsoftware included (certified by major software houses)
Fully Energy Star Compliant with Unique ECO Tools
Apple Mac Compatible
!
Windows Systems Compatible
TSP143III futurePRNT is the first All-in-One receipt printer on the market today!
It is provided with a USB connection that provides an immediate "Plug&amp
;
Play" installation which reduces the time of integration to minutes.
The advantages of such a printer are evident for applications such as retail, restaurants, and convenience stores.
This direct thermal printer is provided with all standard operating system drivers (Windows, Linux and Mac) and specialty drivers such as OPOS and JPOS. Star has also included a number of embedded simple utilities that will enhance Retail or Hospitality CRM in POS applications and therefore make the entire experience a charm.
Warranty for this product is 1 Year
Paper Rolls Used:
80x80 Thermal Paper Rolls (24 Rolls)