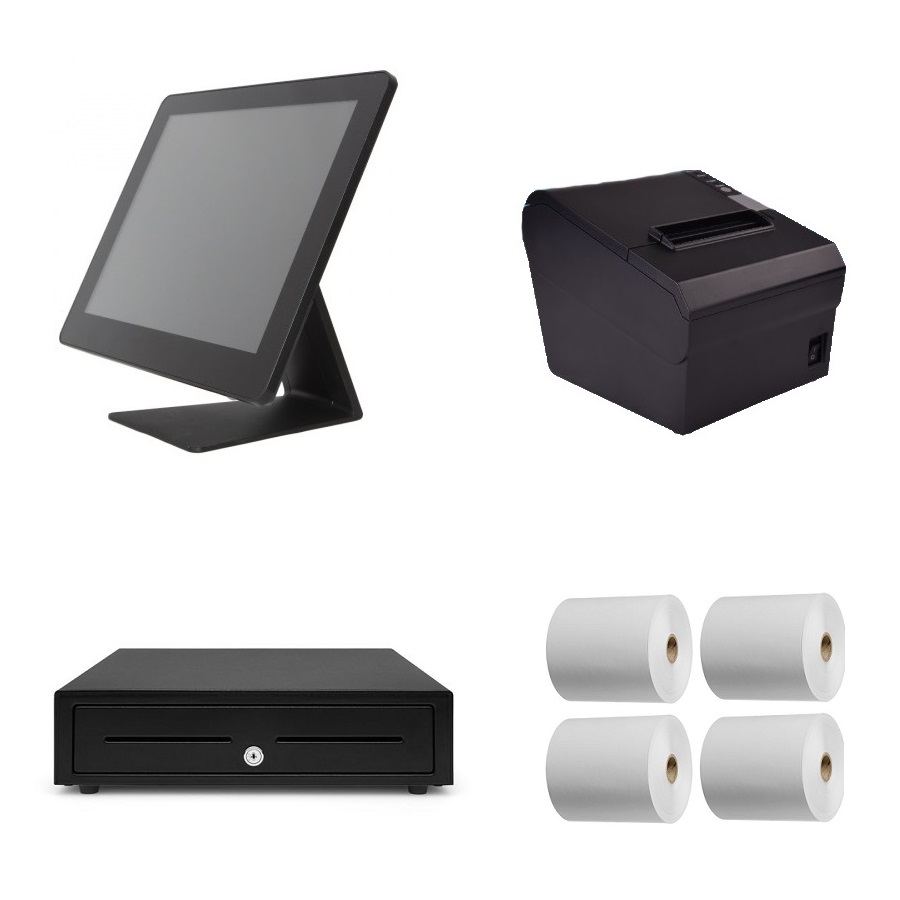 FEC PP1635 POS Touch Screen + Element Printer Bundle - Includes POS Terminal, Receipt Printer, Cash Drawer & Starter Pack of Paper Rolls.
Brand: FEC
Ideal for both Retail & Hospitality, the FEC PP1635 POS Touch Screen + Element Printer Bundle is a complete Point of Sale System hardware solution for any business. You can add your own POS Software and be up and running in no time!
FEC Retail POS System Bundle
This FEC PP1635 + Element Receipt Printer POS System Bundle is an affordable Point of Sale Hardware option for Retail & Hospitality Environments. If you wish to use this with a Cloud POS Software Vendor you will need to check to ensure it is compatible before purchasing.
This Bundle Includes:
1 x FEC PP-1635 15" Touch POS Terminal with Windows 10IOT OS
1 x Element RW973 Thermal Receipt Printer with USB, Serial & Ethernet Interface
1 x VPOS EC-410 Cash Drawer with 5 Notes & 8 Coin Sections
1 x Starter 4 Pack of Thermal Paper Rolls
Check out the below for individual product details!
FEC PP-1635 15" Touch POS Terminal
The FEC PP-1635 Touch Screen POS Terminal is an Ultra Slim 15" All-in-One Point of Sale Solution with a small foot print and Windows 10 IoT Operating System Included.

Fan-less All in one Panel PC: Featuring Intel Celeron J1900 quad-core CPU, the fan-less 15'' PP1635C is a perfect POS solution. With its small footprint, it also creates more space for work efficiency.
True flat Projected Capacitive touch: Featuring elegant and graceful bezel-free design. The sensitivity of P-CAP touch fulfils customers' demands based on different user scenarios.
Aluminium Die-casting housing: It is not only robust and durable but also provides a great solution for heat dissipation for CPU, RAM, and storage.
Ultra Slim: The total thickness of PP-1635C is from 27.9 to 41.7mm. It is not only slim but also with strong and durable aluminium design to maximize your working space.
Easy Swap Storage: Loose one single screw then you will be able to access the storage for easy maintenance.
Cable Management: To avoid messy cabling in working area, we offer a solution that cables can be hidden within the back cover of the stand to make working area always clean and tidy.
Main Features
Intel BayTrail D Celeron Quad-core J1900 CPU (2M cache, up to 2.42 GHz)

RAM: 4GB 204-pin DDR3/L

15 inch LCD 250-nits with LED backlight, 30K hours, 1024x768

15 inch Projective capacitive touch 10-points touch (Bezel free)

1 x 128Gb 2.5 inch SATA Drive Bay (for HDD / SSD / SATA DOM)

Ports
1 x 12V DC in (Hosiden 4 pin)

1 x 12V DC out (DC jack)

1 x Cash Drawer Port (12V only)

1 x Giga LAN (RJ-45)

1 x VGA (5V default, 12V optional. Selectable in BIOS)

5 x USB (USB 2.0 x 4, USB 3.0 x 1)

4 x COM (RJ45 x 2, DB9 x 2)

Other Features
External power adapter 60W

Housing color: Black

Aluminum Die-casting

This product has a 24 month return to base warranty
Element RW973 Thermal Receipt Printer
The new Element RW973 Thermal Receipt Printer is a solid and reliable unit capable of handling receipt printing in high volume transaction environments.

The RW973 features a triple interface which includes RS232, Ethernet and USB. It can print out at 250mm/sec and is compact and easy to use.
Main features:
High printing speed up to 250mm/s

Three-in-one interface, including RS232, Ethernet and USB

Embedded with 2D barcode edition algorithm which supports the 2D barcode common in the market, such as QRcode/ PDF417

Windows/Linux driver

Complete OPOS driver

Supports page mode printing

Double cash drawer driver

Movable paper guard plate design which supports 58mm, 76mm, 80mm wide thermal paper

This product has a 36 months return to base warranty
VPOS EC-410 Cash Drawer
The VPOS EC-410 Cash Drawer is a solid steel cash drawer perfect for all Point of Sale Environments. By adding the under counter brackets you can easily mount the drawer giving extra security and make the installation neat & tidy.
Main Features
Solid Steel Construction - 5 Note Holders, 8 Coin Slots

2 Cheque/Media Slots

Steel Runners & Derlon Rollers

24V Solenoid - Designed for connection to receipt printers

1.6M Cable with RJ12 plug (Standard Receipt Printer Connector)

Black Colour Only

Dimensions: 410mm (w) x 415mm (d) x 110mm (h)

Can connect to Receipt Printer or Manually Opened by Key

3 Year Return To Base Warranty