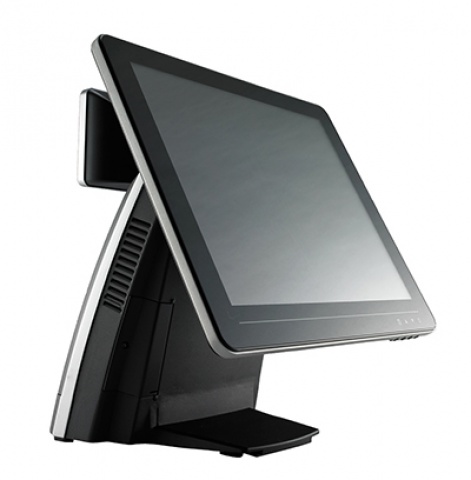 FEC AERPOS i5 15" Touch Screen POS Terminal with Microsoft Windows 10 IOT Enterprise Operating System.
Brand: FEC
The FEC AERPOS i5 is a high quality 15" All-in-One Point of Sale Terminal with Projected Capacitive (PCAP) Touch Screen.
FEC All-In-One Point of Sale System
AerPOS is a bezel free fanless aluminium POS terminal family designed for mission critical retail environments. AerPOS embraces the FEC total cost of ownership concept and thus focus on the Reliability, Compatibility, User Friendly and Eco Friendly aspects of the POS terminal to reduce its total cost during its lifecycle.
- Intel H110 Chipset (Kaby Lake)
- Intel i5-7500T 2.7Ghz (up to3.3GHz) Quad Core CPU
- 15 inch LCD 350-nits with LED backlight, 50K hours(XTN03.5), 1024x768
- Projected Capacitive Touch(G.G. 10 points)
- RAM: 8GB DDR4 ( 2 x 260pin slot, up to 32GB)
- 1 x 128GB M.2 SATAIII
- 4 x Serial port (2 x RJ45, 2 x DB9 / COM3 reserved for VFD)
- 5 x USB port (front: 1 x 2.0, rear: 2 x 2.0, 2 x 3.0)
- 1 x 12V RJ11 Cash drawer port
- 1 x Line-out, 1 x Mic In
- 1 x RJ45 Giga Lan
- 1 x VGA port (DB15) for 2nd LCD Display (5V / 12V)
- Optional Port: Type B: 1 x 24V powered USB
- Integrated 2 x 2W Stereo Speakers
- 12V DC out power jack
- 150W External Power Adapter (12V)
- Housing color: Black with Silver Trim
- Aluminum Die-casting + Plastic + Glass
- Smart management version 3.0 cloud-based hardware monitoring/configuring utility. FREE (must purchase HDD and O/S from FEC)
- Windows 10 IOT Enterprise 2016 Value (for Celeron, i3, i5)