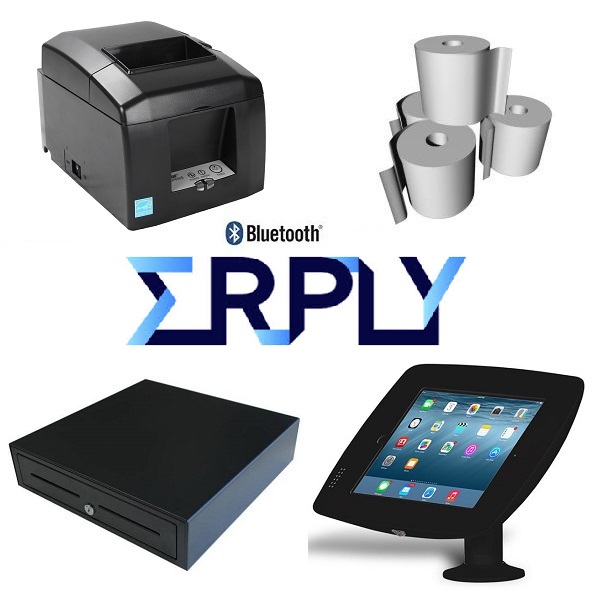 Erply Bundle 4 - Star TSP654II Bluetooth Receipt Printer, Cash Drawer, iPad Stand & Paper Rolls
Brand: ERPLY
Erply Point of Sale Hardware Bundle with Bluetooth Printer, Cash Drawer, iPad POS Stand & Paper Rolls. All compatible with Erply for iPad.
ERPLY POS Hardware
Bundle compatible with Erply Point of Sale Software using a Star Micronics TSP654II Bluetooth POS Receipt Printer.
The Bundle Includes:
1 x STAR TSP654II Bluetooth Thermal Receipt Printer
1 x Cash Drawer with 5 Notes & 8 Coins
1 x Fusion iPad POS Stand
1 x Box of 80x80 Thermal Paper Rolls (24Qty)
Check out the below details for individual product specifications!
Erply POS Software is not included in the bundle price but feel free to visit the Erply Website for information & Pricing.
STAR TSP654II Bluetooth Thermal Receipt Printer
The Star TSP654II (TSP654IIBI-24) boasts a lightning fast print speed of 60RPM (receipts per minute) (300mm/second). The TSP654II also features an improved Guillotine Cutter (2 million cuts), easy ?drop in and print? paper loading and a small footprint.
FEATURES
Bluetooth Desktop Receipt Printer
Apple MFi Certified
"JustWorks" SSP Profile
Small Footprint
High Speed: 300mm/ sec
Reliable Guillotine Cutter
Drop-In and Print Paper Loading
Free Shipping
What's in the Box?
The TSP654II ships with Installation CD (printer driver/manuals), setup guide, wall mount bracket, vertical mount pads, 58mm paper guide, power switch cover, start-up paper roll and external power supply included in the box.
Paper Rolls Used: 80x80 Thermal Paper Rolls (24 Rolls)
Warranty
All STAR MICRONICS printers are covered by a twelve (12) month warranty including all parts and labour.
EXTENDED THREE (3) YEAR WARRANTY
Extended warranty registration MUST be completed within the standard 12 month warranty period to qualify for extension.
Cash Drawer with 5 Notes & 8 Coins
The VPOS EC-410 Cash Drawer is a solid steel cash drawer perfect for all Point of Sale Environments. By adding the under counter brackets you can easily mount the drawer giving extra security and make the installation neat & tidy.
MAIN FEATURES
Solid Steel Construction - 5 Note Holders, 8 Coin Slots
2 Cheque/Media Slots
Steel Runners & Derlon Rollers
24V Solenoid - Designed for connection to receipt printers
1.6M Cable with RJ12 plug (Standard Receipt Printer Connector)
Black Colour Only
Dimensions: 410mm (w) x 415mm (d) x 110mm (h)
Can connect to Receipt Printer or Manually Opened by Key
3 Year Return To Base Warranty
Fusion iPad POS Stand
Fusion Screw mount Enclosure to suit Apple iPad iPad 2/3/4, iPad Air 1/2, iPad Pro 9.7, iPad 2017, iPad 2018, iPad 10.5 & iPad 10.2 7th Gen.
The tablet is displayed in a lockable enclosure with a rotate and tilt function allowing 90° rotation between portrait and landscape modes plus 90° tilting backwards and forwards for a perfect viewing angle. Particularly useful if you are changing between kiosk operators. The tablet enclosure stays in the position where it has been left.
The metal pole is screw fitted to the tabletop with all screws hidden from view.
The tablet enclosure is manufactured from a strong ABS plastic rear and metal face plate for maximum security. Both fit perfectly together for a near seamless fit. The tablet enclosure face plate is locked closed with a secure barrel key lock. This allows for easy daily tablet removal. An optional (supplied) security screw can also be used to lock the face plate closed.
The tablet enclosure face plate has the front camera exposed for all tablets. The iPad face plate allows for the home button to be left open or covered with the supplied home button cover. The tablet enclosure protects all side buttons and cable ports.
All cable routing is through the rear of the enclosure and down inside the metal pole. The cable can exit to run on the desktop or alternatively can pass through underneath the desktop through a suitable hole drilled into the mounting surface.
Specifications
High quality metal and ABS plastic construction
Rotates 90° between portrait and landscape
Tilts 90° for front or rear facing
Free standing Desk Stand or optional screw fixing
Lockable face plate
Available in black and white
This product has a 12 month warranty.