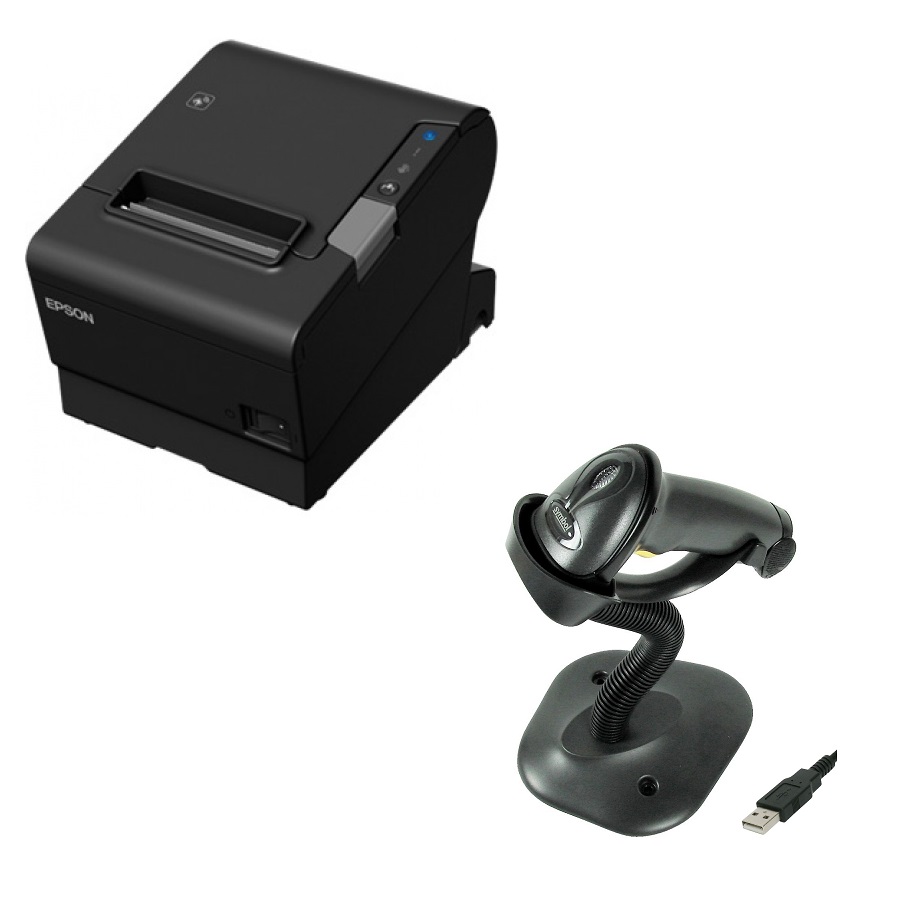 POS Bundle: Epson TM-T88VI Receipt Printer with Serial, USB & Ethernet Interface plus a Zebra (Motorola / Symbol) LS2208 USB Barcode Scanner with Stand.
Brand: Epson
Point of Sale Bundle with Epson TM-T88VI Receipt Printer which has a triple interface including Serial (RS232), USB & Ethernet Interfaces as standard PLUS a Zebra LS-2208 USB Barcode Scanner and Hands Free Stand.
Choose the interface above so we know which cable to supply with your printer.
Epson TM-T88VI Receipt Printer + Zebra LS2208 Barcode Scanner
CRW have a high quality POS Bundle special with Epson's leading TM-T88VI Thermal Receipt Printer and Zebra's well known LS2208 POS Barcode Scanner.
Bundle Includes:
1 x Epson TM-T88VI Ethernet/Serial/USB Thermal Receipt Printer
1 x Zebra LS-2208 Barcode Scanner with USB Interface & Hands Free Stand
Epson TM-T88VI Receipt Printer
The Epson TMT88VI (TM-T88VI) is the latest member of the Epson POS Printer Family. This Thermal Receipt Printer comes standard with USB, Serial (RS232) & Ethernet (LAN) Interfaces as standard.
Reliable, fast receipt printer with mobile connectivity, which makes it easy to add web and mobile POS services to a traditional PC-based POS system.
The TM-T88VI is Epson's new state-of-the-art receipt printer, designed to work with both traditional PC-based POS systems and increasingly popular web and tablet solutions.
Versatile
The versatile Epson TM-T88VI receipt printer offers retailers, restaurants, bars and other commercial businesses the chance to explore web and mobile POS solutions without losing the functionality of a traditional PC-based system, as both can be run in parallel.
High performance and low running costs
As well as flexibility, the TM-T88VI gives outstanding performance, with print speeds of up to 350mm/s, and excellent reliability. A backward paper-feeding function helps save paper without affecting performance, reducing running costs and paper waste.
Flexible connectivity
Server Direct Print functionality allows the TM-T88VI to print direct from a web server. It also supports beacons, to help mobile devices identify the nearest printer, making it ideal for POS environments with multiple printer installations, while NFC support makes it easy to pair tablets, smartphones and other mobile devices.
Compact desktop
The TM-T88VI has exactly the same footprint as the TM-T88V, allowing you to upgrade to a brand new system without having to rearrange your counter space, and is available in both black and white to suit any shop, bar or restaurant decor.
What's in the Box?
Thermal Paper Roll (one)

Waterproof power button cover

Rubber feet for vertical installation

Control panel sheet for vertical installation

58mm width paper guide

External power supply (Model: PS-180)

CD-ROM (Drivers, Utility Software, Manuals)

Setup guide

Zebra LS-2208 USB Barcode Scanner
The Zebra LS-2208 USB Barcode Scanner is also well known as the Symbol LS-2208 & Motorola LS-2208.
The LS-2208 Barcode Scanner provides fast, reliable scanning in an ergonomic, lightweight form. The wide working range from near-contact to 17 inches, makes this device ideal for retail, hospital, education or government settings.
Multiple on-board interfaces ensure integration with a variety of host systems
Main Features
Durable, future-proof construction

High performance 1D linear scanner

Wide working range: contact to 17 in./43 cm on 100%

UPC/EAN symbols

High performance scanning

Proven quality you can trust

Plug-and-play

Weight: 146g

Warranty: 5 Years

Includes Stand