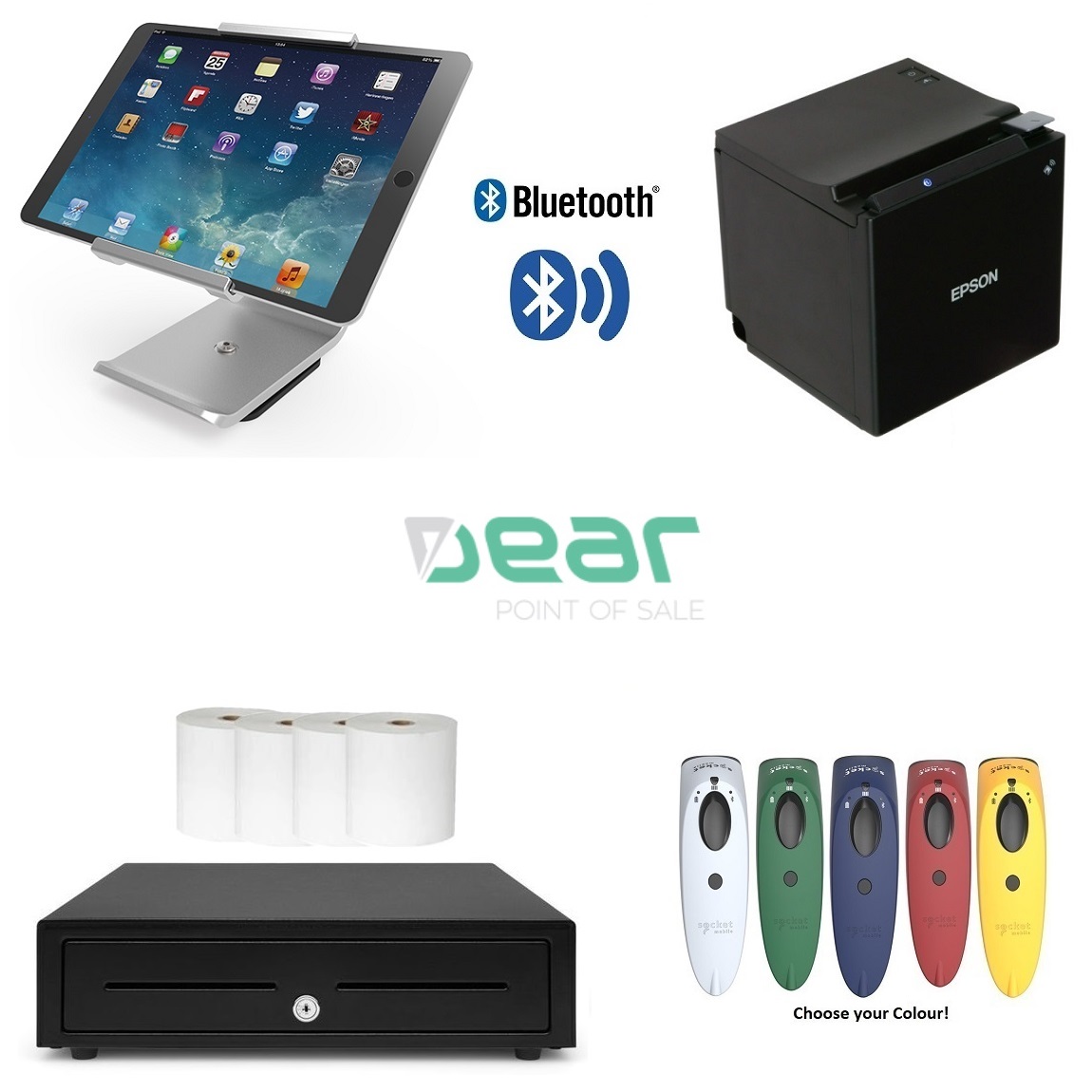 DEAR POS iPad POS Bundle #1 - Apple iPad 10.2 32Gb Tablet, VPOS iPad Stand, Epson TM-M30 Bluetooth Receipt Printer, Socket Bluetooth Scanner, Cash Drawer & Starter Pack of Paper Rolls.
Brand: DEAR POS
This DEAR iPad Bundle is compatible with DEAR Point of Sale (POS) Software. It offers a great barcode scanning solution.
This DEAR iPad POS Scanning Bundle is a great way to get started when you are using the DEAR Point of Sale (POS) Software to scan barcodes. It is compatible and supported by DEAR Systems.
This bundle includes:
1 x Apple iPad 10.2" WiFi 32GB Space Grey
1 x Epson TM-M30 Bluetooth Thermal Receipt Printer
1 x Socket S700 1D Bluetooth Barcode Scanner (Choice of Colour)
1 x VPOS EC-410 Cash Drawer with 5 Notes & 8 Coin (Connects to printer)
1 x VPOS iPad Stand - Free standing & screw mount options included
1 x Starter Pack of Thermal Paper Rolls (4 Rolls)
Check out below for individual item specs!
Apple iPad 10.2" WiFi 32GB Space Grey
The Apple iPad 10.2" Wifi 32Gb Space Grey is a great companion product for your new or current iPad POS System.
Once you have your new iPad, you just need an iPad Stand, Receipt Printer, Cash Drawer & optional barcode scanner and you will have a complete Point of Sale Software when you select your desired POS Software.
APPLE IPAD 10.2IN WIFI 32GB SPACE GREY
10.2-inch Retina display
A10 Fusion chip
Touch ID fingerprint sensor
8MP back camera, 1.2MP FaceTime HD front camera
Stereo speakers
802.11ac Wi-Fi
Up to 10 hours of battery life
Lightning connector for charging and accessories
Support for Smart Keyboard and Apple Pencil
iPadOS with intuitive multitasking, new Home screen, and all the great features of iOS 13
This product comes with a 12 month warranty.
Epson TM-M30 Bluetooth Thermal Receipt Printer
Pair you device or tablet with the Epson Tm-m30 Bluetooth Receipt Printer! Print receipts wireless with your compatible software with this sleek 3 inch receipt printer ideal for tablet POS environments.
For retail businesses looking to move to a tablet POS system that is affordable and easy to install, the TM-m30 tablet POS printer from Epson is the ideal choice. Thanks to ePOS-Print SDK, the TM-m30 easily communicates with web-based applications, ensuring receipts can be printed quickly and efficiently from any mobile device.
KEY FEATURES & BENEFITS
Sleek, compact and stylish design
Flexible placement - place horizontally or vertically
NFC & Barcode pairing
ePOS print allows direct printing from ANY mobile device without the need to install or update drivers
Print speed of up to 200mm/sec
Paper width max 80mm
High-quality receipt printouts
Prints 1D and 2D barcodes
Stylishly compact
Sleek, stylish and compact, the TM-m30 is one of the smallest POS printers in the world. Its size means it can be placed almost anywhere, making it perfect for any retail environment and especially those with limited space. Available in black or white, it can be used as a top or front access printer.
Easy to install
Print directly from any smart device with ePOS-Print on both iOS and Android systems. Additional Ethernet, Bluetooth, USB and Wi-Fi connectivity are available.
Adaptable
Quickly and easily customise receipts with logos and promotional messages. Advance graphics and barcodes using high-quality, multiple greyscale printing are also fast and simple to produce.
Paper saving
Using backward paper feeding, or printing the logo when the receipt is cut, can shorten receipt lengths reducing paper costs and consumption by up to 30%.
Connectable
A single printer can be dynamically shared across multiple tablets with different interfaces.
Direct printing from web browsers
Epson's innovative ePOS-Print technology means the TM-m30 can quickly, easily and seamlessly integrate with any PC, tablet, laptop or mobile device via a Wi-Fi or Bluetooth interface. Whether the device is running iOS, Android, Windows CE or Windows mobile, direct printing from the web browser becomes possible without the need to install or update any other drivers.
Easy pairing with mobile devices
NFC connectivity (Near Field Communication), means the TM-m30 can be easily paired with tablets and smartphones. Simply bring the devices close together to make the connection. For added convenience and flexibility, pairing by QR code is also possible.
Simple set-up using Wi-Fi
The 'Easy Setting Functionality' on the TM-m30 creates an access point for connecting smart devices. Once implemented, both devices can be easily set-up and configured on a wireless network for instant use.
The Epson TM-M30 comes with a 2 Year Warranty
VPOS EC-410 Cash Drawer
The VPOS EC-410 Cash Drawer is a solid steel cash drawer perfect for all Point of Sale Environments. By adding the under counter brackets you can easily mount the drawer giving extra security and make the installation neat & tidy.
MAIN FEATURES
Solid Steel Construction - 5 Note Holders, 8 Coin Slots
2 Cheque/Media Slots
Steel Runners & Derlon Rollers
24V Solenoid - Designed for connection to receipt printers
1.6M Cable with RJ12 plug (Standard Receipt Printer Connector)
Black Colour Only
Dimensions: 410mm (w) x 415mm (d) x 110mm (h)
Can connect to Receipt Printer or Manually Opened by Key
3 Year Return To Base Warranty
Socket S700 Bluetooth Barcode Scanner
The Socket S700 Barcode Scanner is a Wireless Bluetooth 1D Imager ideal for retail POS, field service, inventory management, asset tracking and more.
The SocketScan S700 1D barcode scanner with Bluetooth wireless technology scans on paper or screen. It has a light-weight, ergonomic structure, and a long-lasting battery to withstand entire work days. The five color options fit most styles and environment needs. The LEDs for battery, Bluetooth and scanning notifications make the scanner more intuitive to use. Compatible with all applications in previous Socket Mobile barcode scanners, without software changes.
This scanner is dressed to impress both consumers and end users in retail and office settings. Ideal for retail POS, field service, inventory management, asset tracking and more. Use our Companion App for easy set up and configuration.
Features
Bluetooth Wireless Technology - Connects easily to a wide range of Bluetooth enabled smartphones, tablets, notebook and desktop computers
Scanning - Reads all common 1D / linear and stacked barcodes up to 13" (33 cm) away
Exceptional ergonomics - Small, lightweight, and fits perfectly in the hand for comfortable use over extended periods
Long Lasting Battery – Power to last over 16 hours
User Indicators – Intuitive LEDs, beeps, and vibrations let users know battery, Bluetooth connection and scanning status
Protective Material - Made with antimicrobial material for protection against potentially harmful bacteria
Colour options - Blue, Green, Red, White, Yellow enables corporate branding personalization and is easy to find in busy work environments
Designed & made in the USA
No software installation required - use Bluetooth HID mode to function and behave similar to a keyboard
Advanced functionality – Leverage Application Mode functionality by integrating Socket Mobile's SDK in you APP. It improves business productivity with faster, efficient and reliable data transfer over Bluetooth
This product has a 12 Month Warranty.
VPOS iPad Stand
The VPOS iPad stand is a great solution for your iPad POS System. It is silver and is flexible with different model iPads including the iPad Air 2 9.7", iPad pro 9.7" and iPad pro 10.5". This will also fit the Samsung Tab A 10.5".
It can be adjusted between Landscape or Portrait Position plus provides a 360 Degree rotation on the stand.
Main Features:
Compatible with iPad Air 2 9.7", iPad pro 9.7", iPad pro 10.5" & Samsung Tab A 10.5".
Enclosure can be adjusted to Landscape or Portrait Position
Free standing or 3M Tape and Screws supplied for multiple mounting options
Aluminium casting forming
360 degree rotation of stand
This product has a 3 Month Warranty.