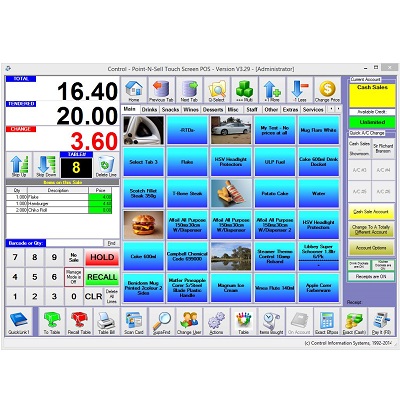 Control Professional Point of Sale Software for Windows Operating Systems
Brand: Control Information Systems
Control Professional is an affordable Point of Sale Software we use regularly for businesses including Small Cafe's, Hotel's, Pubs and Small Restaurants.
Control Pro can also be used for Retail, Warehousing and Popup shops.
It does not require an internet connection as the database is held locally on your POS Terminal or Computer. 
Control Information Systems has produced a Cost Effective POS Software Solution which is User Friendly, Easy to setup and can have unlimited items. Control PRO Point of Sale Software can be downloaded free as a trial before purchasing.
Control Professional POS Software is $150.00/YEAR
Work smarter and faster with Control's comprehensive, advanced software for businesses. So easy and intuitive to use.
Ideal for any business that has a product or service to sell.
You can use it simply for creating invoices, or utilise it fully in creating an on-line store - all at the click of a button.
Control Professional does it for you with ease, just add your items, product groups and prices on your own pc, then go!
Supports single pcs and/or networked multi-users.
It's popularity since it's initial release has spurred us on to do even more!
Modules already implemented as standard features include advanced Point of Sale (POS), Customers/Debtors, Vendors/Creditors, Inventory, E-Commerce, Contacts, Memberships, Stocktake, Automated End of Month/Year, Users and Powerful Sales Analysis modules.
Features...
General

Maintain Customers, Inventory, Creditors, Contacts, Members, Sales Orders, Invoices, Purchase Orders all from the one program.

Heaps of "Smart" reports with more being added with every new release.

Easy to set up and use - be up and running in minutes.

Fully Multi-User with ability to individually configure individual options for users.

Multiple Document Interface (MDI) means that you can open multiple windows showing different information at the same time without problem.

If you change something in one window - all other windows are updated with the new information.

Flexible "SupaFind" technology ensures searches are Supa-Fast!

(less than 1 second on over 30,000 items)

PLEASE NOTE: During Shopping Cart, you will be charged for shipping (Although the software is downloaded and licenced externally).

You can order this item directly from the Control Professional Website www.control.net.au.

If you wish to purchase a Hardware/Software Bundle, 1 Yr Registration of Control Professional is Included in the Bundle Price.

We DO NOT profit from Sales of Control Professional Software.