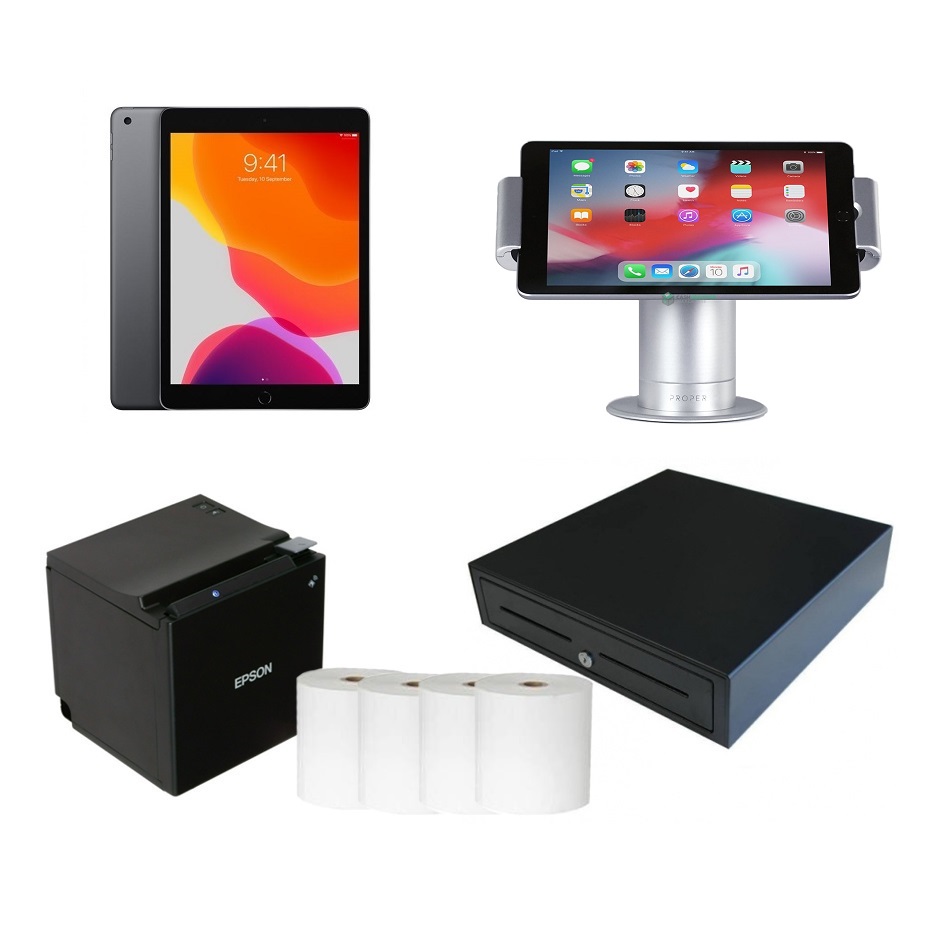 Apple iPad POS Hardware Bundle #11 - Apple iPad 10.2" Tablet, Studio Proper Swivel Stand, Epson TM-M30 Receipt Printer, Cash Drawer & Paper Rolls
Brand: Apple
Apple iPad POS Hardware Bundle 11 will work with a range of Point of Sale Apps and is designed connect via Bluetooth directly to your iPad. 
You will need to check with your software vendor to sure this bundle is compatible.

This iPad POS (Point of Sale) Hardware bundle is a great startup solution for a range of common POS Software Apps. It is important that you do check with your software vendor or their list of compatible hardware before purchasing to ensure it will work.
This iPad Bundle connects via Bluetooth Directly to your iPad. This is a common bundle used with iPad Apps including Kounta, Hike, Neto, Loyverse & MobiPOS.
This bundle includes:
1 x 10.2" Apple iPad WiFi 32GB Space Grey
1 x Studio Proper Powered Swivel iPad Stand
1 x Epson TM-M30 Bluetooth Thermal Receipt Printer
1 x VPOS EC-410 Cash Drawer with 5 Notes & 8 Coin (Connects to printer)
1 x Starter Pack of Thermal Paper Rolls (4 Rolls)
Check out below for individual item specs!
10.2" Apple iPad WiFi 32GB Space Grey
The Apple iPad 10.2" Wifi 32Gb Space Grey is a great companion product for your new or current iPad POS System.
Once you have your new iPad, you just need an iPad Stand, Receipt Printer, Cash Drawer & optional barcode scanner and you will have a complete Point of Sale Software when you select your desired POS Software.
APPLE IPAD 10.2IN WIFI 32GB SPACE GREY
10.2-inch Retina display
A10 Fusion chip
Touch ID fingerprint sensor
8MP back camera, 1.2MP FaceTime HD front camera
Stereo speakers
802.11ac Wi-Fi
Up to 10 hours of battery life
Lightning connector for charging and accessories
Support for Smart Keyboard and Apple Pencil
iPadOS with intuitive multitasking, new Home screen, and all the great features of iOS 13
This product comes with a 12 month warranty.
Studio Proper Powered Swivel iPad Stand
Studio Proper 10.2" Powered Swivel iPad Stand - For Apple iPad 10.2" 7th Generation Tablets.
Versatile and ergonomic — The Proper iPad Swivel Stand is designed to seamlessly and securely mount and display your iPad. Combining 180° of swivel rotation for convenient customer interaction, and an ergonomically friendly 80° of angle adjustment; the Swivel Stand optimises the user experience of your iPad, and looks beautiful in every environment.
With the included MFi certified Lightning cable, the Swivel Stand conceals your cables, and keeps your iPad locked securely into place, while remaining powered at all times.
Designed to Last
Built with solid aluminum and premium, durable materials.
Always On
Powered at all times, with an included MFi certified Lightning cable concealed within the stand.
Swivel Rotation
180° of swivel rotation, allowing customer interaction and sign-on-screen transactions.
Angle Adjustable
80° of angle adjustment, providing an ergonomically friendly viewing experience for every user.
Assemebled Dimensions
270mm (w) x 132mm (d) x 188mm (h)
This product has a 12 Month Warranty.
Epson TM-M30 Bluetooth Thermal Receipt Printer
The TM-M30 is compatible with iPad software including Kounta, Loyverse, MobiPOS and a range of other POS Software vendors on the market. Please ensure you do check the device and software compatibility to ensure it is going to work. You can also contact our POS Team.
For retail businesses looking to move to a tablet POS system that is affordable and easy to install, the TM-m30 tablet POS printer from Epson is the ideal choice. Thanks to ePOS-Print SDK, the TM-m30 easily communicates with web-based applications, ensuring receipts can be printed quickly and efficiently from any mobile device.
KEY FEATURES & BENEFITS
Sleek, compact and stylish design
Flexible placement - place horizontally or vertically
NFC & Barcode pairing
ePOS print allows direct printing from ANY mobile device without the need to install or update drivers
Print speed of up to 200mm/sec
Paper width max 80mm
High-quality receipt printouts
Prints 1D and 2D barcodes
Stylishly compact
Sleek, stylish and compact, the TM-m30 is one of the smallest POS printers in the world. Its size means it can be placed almost anywhere, making it perfect for any retail environment and especially those with limited space. Available in black or white, it can be used as a top or front access printer.
Easy to install
Print directly from any smart device with ePOS-Print on both iOS and Android systems. Additional Ethernet, Bluetooth, USB and Wi-Fi connectivity are available.
Adaptable
Quickly and easily customise receipts with logos and promotional messages. Advance graphics and barcodes using high-quality, multiple greyscale printing are also fast and simple to produce.
Paper saving
Using backward paper feeding, or printing the logo when the receipt is cut, can shorten receipt lengths reducing paper costs and consumption by up to 30%.
Connectable
A single printer can be dynamically shared across multiple tablets with different interfaces.
Direct printing from web browsers
Epson's innovative ePOS-Print technology means the TM-m30 can quickly, easily and seamlessly integrate with any PC, tablet, laptop or mobile device via a Wi-Fi or Bluetooth interface. Whether the device is running iOS, Android, Windows CE or Windows mobile, direct printing from the web browser becomes possible without the need to install or update any other drivers.
Easy pairing with mobile devices
NFC connectivity (Near Field Communication), means the TM-m30 can be easily paired with tablets and smartphones. Simply bring the devices close together to make the connection. For added convenience and flexibility, pairing by QR code is also possible.
Simple set-up using Wi-Fi
The 'Easy Setting Functionality' on the TM-m30 creates an access point for connecting smart devices. Once implemented, both devices can be easily set-up and configured on a wireless network for instant use.
Optional customer display DM-D30
Designed to match the dimensions and colours of the TM-m30 printer, the DM-D30 customer display retains a stylish, integrated look and feel when in use. This adaptable option can be connected to the printer via the USB A port and, if a Wi-Fi dongle is required on the TM-m30, this can be invisibly connected behind the DM-D30.
Optional wall mounting bracket
Mount the printer quickly and securely to any wall or vertical surface with the optional wall mounting bracket. By simply swapping just two printer covers, the TM-m30 converts from a horizontal to a vertical solution, maximising space even in the smallest retail environments.
The Epson TM-M30 comes with a 2 Year Warranty
Please ensure you check the compatibility with the software you will be using before purchasing.
VPOS EC-410 Cash Drawer
The VPOS EC-410 Cash Drawer is a solid steel cash drawer perfect for all Point of Sale Environments. By adding the under counter brackets you can easily mount the drawer giving extra security and make the installation neat & tidy.
MAIN FEATURES
Solid Steel Construction - 5 Note Holders, 8 Coin Slots
2 Cheque/Media Slots
Steel Runners & Derlon Rollers
24V Solenoid - Designed for connection to receipt printers
1.6M Cable with RJ12 plug (Standard Receipt Printer Connector)
Black Colour Only
Dimensions: 410mm (w) x 415mm (d) x 110mm (h)
Can connect to Receipt Printer or Manually Opened by Key
3 Year Return To Base Warranty