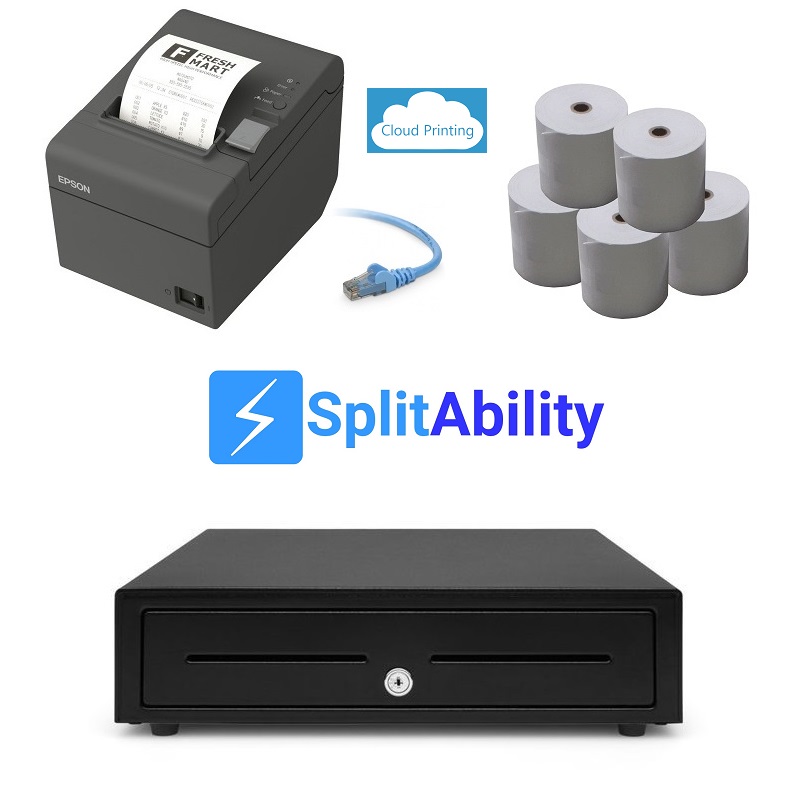 Splitability Hardware Bundle 1 - Epson TM-T82II-i Intelligent Receipt Printer, Cash Drawer & Paper Rolls
Brand: SplitAbility
SplitAbliity Compatible Point of Sale Hardware Bundle for use with SplitAbility POS.
SplitAbility POS Hardware Bundle with Epson TM-T82II-i Intelligent Cloud Printer compatible with SplitAbility Point of Sale Software. Compatible with All Operating Systems.
The Bundle Includes:
1 x Epson TM-T82II-i Intelligent Cloud Receipt Printer
1 x VPOS EC-410 Cash Drawer with 5 Notes & 8 Coin Sections
1 x Box 80x80 Thermal Paper Rolls (24Qty)
Check out the below details for individual product specs!
SplitAbility POS Software
SplitAbility is a cloud based Point of Sale software designed for Restaurants, Bars/Nightclubs, Cafes, Takeaway & Delivery.
SplitAbility runs on any existing computer or device that has an Internet browser.
Any tablet device can be used:
Apple iPads, iPhones and any iOS device.
All Android tablets, phones and devices.
Windows desktop computers, notebooks, phones, tablets including Windows Surface.
SplitAbility is unmatched for speed!
Latency and update times
Menu Item ordering: Instantaneous.
Restaurant overview screen retrieval: Less than 30 milliseconds.
Synchronization to other devices on the LAN: Less than 0.5 seconds.
Change User, Sign in / Sign out: Instantaneous.
Change User privilege: Instantaneous.
Archiving of historical data, to users on line account: Less than 50 milliseconds.
Wireless Order Taking: Instantaneous.
Inventory Increment / Decrement: Instantaneous (Globally Accessible).
Inventory levels minimum / maximum alert: Instantaneous.
Print receipt using Direct Printing: Instantaneous.
Print to kitchen printer using Direct Printing: Instantaneous.
Change/Update 100 menu items: Less than 1 second.
Change/Update 1000 menu items: Less than 3 second.
On Line to Off Line operation: Less than 10 milliseconds.
Table transfers: Instantaneous.
Regular Customer search and retrieval: Less than 5 milliseconds.
Customer Favourite Order look up and retrieval: Less than 5 milliseconds.
TakeAway retrieval: Less than 5 milliseconds.
Note: SplitAbility is a cloud based service and adds resources as required to maintain these latencies.
Main Features
Terminals / Registers / Tablets: Unlimited.
Historical Data: Unlimited and held in your own account at your discretion.
Transactions / day: Unlimited.
Menu Items: Unlimited.
Complete Menus: Unlimited.
Inventory Items: Unlimited.
Users: Unlimited.
User Key or Password can use any characters and any number of characters.
Regular Customers: Unlimited.
Favourite Orders: Unlimited.
Stored Orders and TakeAways: Unlimited.
Fully adjustable floor plans, both table position and size.
87 Currencies Supported.
Mobile Point of Sale (mPOS)
Mobile Point-of-Sale (mPOS) extends traditional countertop POS systems or cash registers with the mobility of tablets and smart phones.
Clunky old fixed terminal POS systems are making way for the newer mobile style of transacting with customers. The advent of technologies including - scrolling touch screens, multi-touch gesturing, pinch & zoom and virtual keyboards has made the transition to mPOS a must for any modern business.
Any tablet or smartphone can be used, thus significantly reducing installation costs. BYOD (bring your own device) can be employed or commodity type hardware e.g. PC's, tablets etc.
Epson TM-T82II-i Intelligent Cloud Receipt Printer
The Epson TM-T82II-i Intelligent Cloud Receipt Printer provides users with a straight forward and elegant printing solution, with no need for drivers. Ideal for use with tablet PCs or mobile phones, the TM-T82II-i is simple to use and maintain, with the ability to print from any device running an HTML 5 compatible web browser. In addition, the TM-T82II-i has grey scale printing for the addition of logos and images to receipts.
KEY FEATURES
Supports printing from virtually any mobile / tablet device
Print via browsers : Print directly from HTML 5 browsers
No drivers needed : No drivers to install or update
Enables Cloud services without the need for legacy POS integration
Multi peripheral connectivity with up to 2 USB ports and 1 serial port
Controls peripherals from any mobile / tablet device
XML compatible : responds to web application commands
Fast print speed up to 200mm/sec and features print options to reduce paper usage
Industry-leading two-year warranty
Integrated Intelligence and performance
Epson's TM-T82II-i combines our best-selling TM-T82II receipt printer with an intelligent interface that includes a built-in web server to enable mobile POS deployments, tablet-based POS systems, cloud-based services and control of peripherals. And it provides the application power and flexibility to run a broad range of POS configurations.
Flexible, web-based mobile printing
The TM-T82II-i features Epson's advanced ePOS technology that enables browser-based printing from virtually any mobile device, with no drivers to install. ePOS technology provides seamless communication between the receipt printer and iOS and Android mobile devices anywhere in the store. For more information on Epson's ePOS technology please read the Epson ePOS technology brief.
Easy peripheral connectivity and control
The TM-T82II-i features Epson's ePOS-Device technology, which allows retailers to easily add peripherals to virtually any POS system. This feature is particularly advantageous with mobile and tablet-based POS. The TM-T82II-i comes with two USB ports and one serial port to provide reliable connectivity for up to three devices including handheld scanners, scales, 2x20 customer displays, wedge MSRs and more. And mobile devices can communicate with any peripheral connected to the TM-T82II-i.
Get the benefits of cloud services
With the TM-T82II-i, retailers can quickly add powerful cloud services such as data analytics, loyalty programs and smart receipts regardless of their current POS system. Transactional data is sent from the printer to the cloud, where it is parsed and utilized to extract valuable real-time data.
Reliable receipt printing
Epson's industry-leading TM-T82II-I POS printer offers best-in-class reliability, paper-saving features that reduce paper usage by up to 30% and best-in-class energy efficiency.
Backed by the Leader
The TM-T88V-i is backed by Epson's industry leading service and support programs and comes with a two year warranty.
VPOS EC-410 Cash Drawer
The VPOS EC-410 Cash Drawer is a solid steel cash drawer perfect for all Point of Sale Environments. By adding the under counter brackets you can easily mount the drawer giving extra security and make the installation neat & tidy.
MAIN FEATURES
Solid Steel Construction - 5 Note Holders, 8 Coin Slots
2 Cheque/Media Slots
Steel Runners & Derlon Rollers
24V Solenoid - Designed for connection to receipt printers
1.6M Cable with RJ12 plug (Standard Receipt Printer Connector)
Black Colour Only
Dimensions: 410mm (w) x 415mm (d) x 110mm (h)
Can connect to Receipt Printer or Manually Opened by Key
3 Year Return To Base Warranty