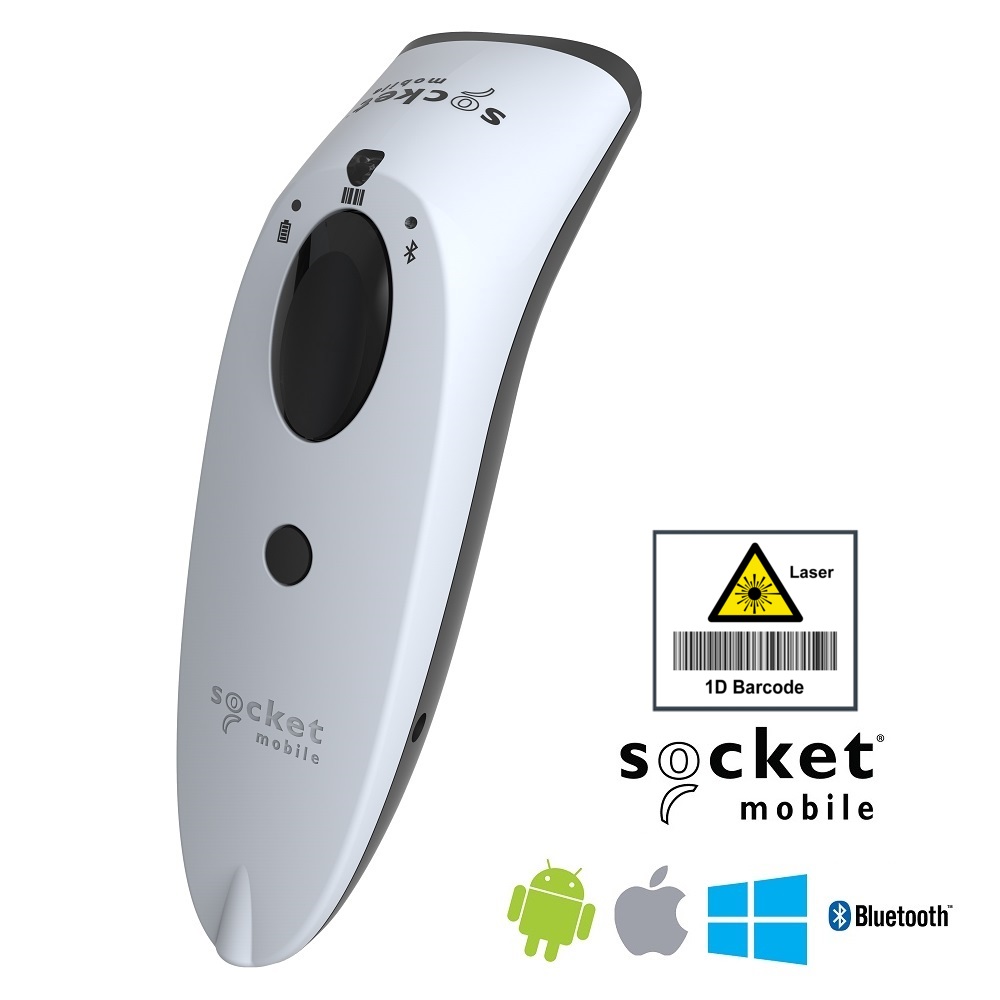 Socket Mobile S730 1D Laser Bluetooth Barcode Scanner - White
Brand: Socket Mobile
The White Socket S730 Barcode Scanner is a Wireless Bluetooth 1D Laser ideal for retail POS, field service, inventory management, asset tracking and more.
socketscan® s730, 1d laser barcode scanner - White
The SocketScan S730 laser 1D barcode scanner with Bluetooth wireless technology is ergonomic and comfortable to use for extended periods of time. The long-lasting battery withstands your entire work day while the scanner's laser scans hard-to-reach places, meeting various jobs' demands. It offers rapid scanning ability for moderate to rigorous scanning applications. It enables easy scanning of barcodes on high shelves or other unreachable areas. The five color options fit most styles and environment needs, with intuitive light icons to keep users informed on its connection and power status.
This scanner is dressed to impress both consumers and end users in most any environment. Ideal for scanning through glass/plastic, in bright sunlight, on curved reflective surfaces or other sensitive lighting conditions. Compatible with all applications in previous Socket Mobile barcode scanners, without any software changes.
Features
• Bluetooth Wireless Technology - Connects easily to a wide range of Bluetooth enabled smartphones, tablets, notebook and desktop computers
• Scanning - High Performance Class 2 laser ideal for moderate to rigorous scanning applications (scans thousands of barcodes per day)
• Flexible - Effectively scans barcodes in sensitive lighting conditions, including through glass/plastic, in bright sunlight, in dark environments, or on curved/reflective surfaces
• Long read range - up to 45" (1.1m) enables easy scanning of barcodes on high shelves or other hard-to-reach areas
• Fast - Rapidly decodes all 1D and stacked barcodes (including ISBN book and VIN numbers), even if they are worn or damaged or tightly spaced
• User Indicators – Intuitive LEDs, beeps, and vibrations let users know battery, Bluetooth connection and scanning status
• Exceptional ergonomics - Small, lightweight, and fits perfectly in the hand for comfortable use over extended periods
• Long Lasting Battery – Power to last over 16 hours
• Protective Material - Made with antimicrobial material for protection against potentially harmful bacteria
• Color options - Blue, Green, Red, White, Yellow enables corporate branding personalization and is easy to find in busy work environments
• Designed & made in the USA
• No software installation required - use Bluetooth HID mode to function and behave similar to a keyboard
• Advanced functionality – Leverage Application Mode functionality by integrating Socket Mobile's SDK in you APP. It improves business productivity with faster, efficient and reliable data transfer over Bluetooth
This product has a 12 Month Warranty.