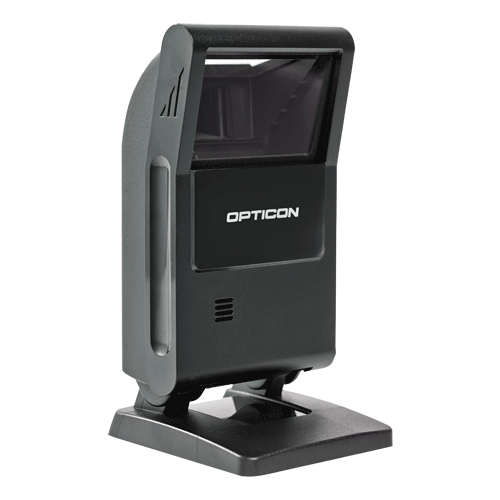 Opticon OPM-10 2D Imager Barcode Scanner with USB Interface
Brand: Opticon
The Opticon OPM-10 Barcode Scanner is a presentation bench top style scanner which can scan both 1D & 2D Barcodes.
Opticon OPM-10
2D Omni-directional Presentation Scanner with USB Interface
The OPM-10, an omni-directionial 2D CMOS imager presentation scanner from Opticon, is ideal for a variety of vertical markets including retail, warehousing and healthcare.
The OPM-10 features multiple scanning capabilities including the ability to scan 1D and 2D barcodes off a mobile phone LCD screen. The M-10's swivel stand makes it easy to tilt the scanner for best scanning orientation and the scanner can also operate as a handheld scanner.
OPM-10 product highlights include:
High speed 2D CMOS imager - omnidirectionally scans up to 60 frames per second
Rapidly scans and decodes 1D and 2D barcodes - even on mobile phone LCD screens
Stylish, space-saving design that easily fits any desk, workspace or retail counter
Scanner can be used as a handheld scanner by using a trigger switch at the head of scanner
New data editing program function captures up to 16 codes on multiple images simultaneously
Output editing process, such as GS1 format, can also be easily set
Compact size and weight - 2.99"W x 5.47"L x 2.76"D and 8.82 ounces
Durable - survives 5 foot drop onto concrete and IP52 rating against dust and moisture
Trigger modes: manual and auto-trigger
Communication interface: USB
This product has a 12 Month Return to Base Warranty.