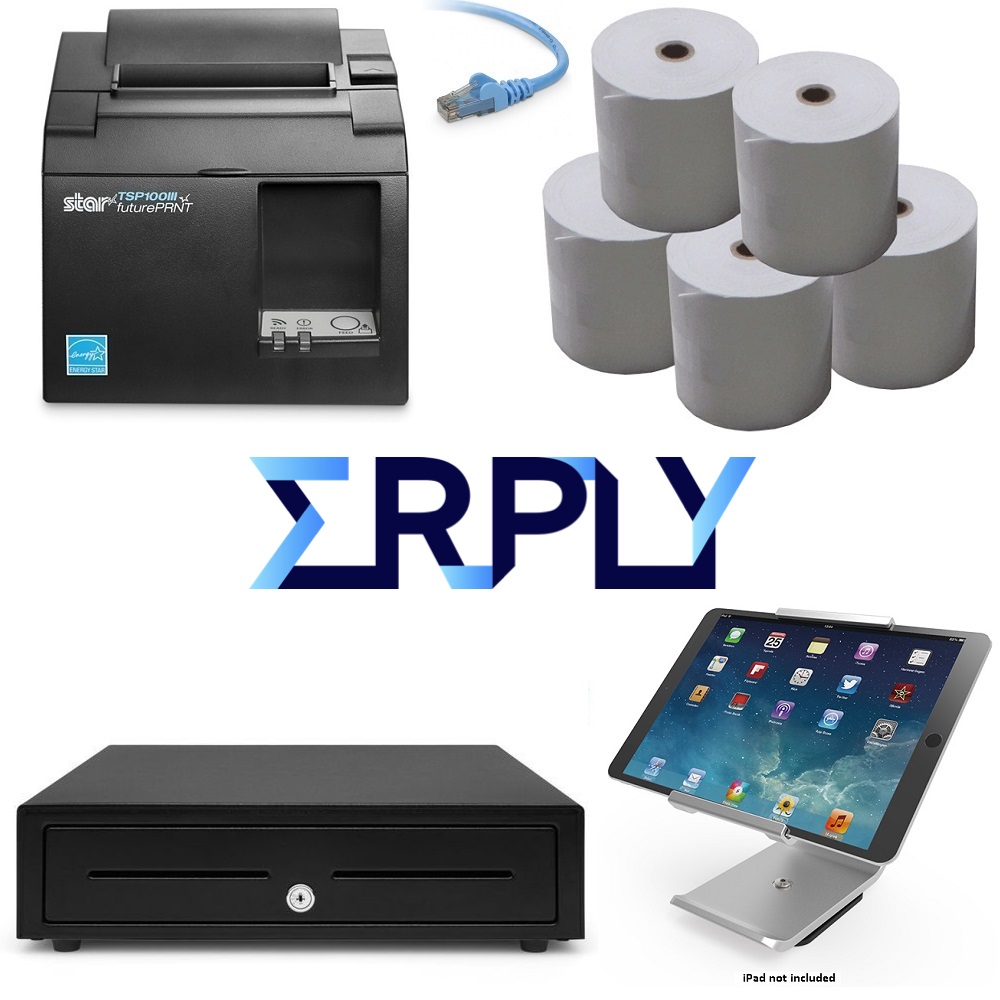 Erply POS Hardware Bundle #3 - Star TSP143III LAN Receipt Printer, VPOS iPad Stand, Cash Drawer & Box of Paper Rolls (24qty)
Brand: ERPLY
Erply Point of Sale Hardware Bundle compatible with Erply POS Software.
ERPLY POS Compatible Hardware Bundle to suit Erply Point of Sale Software.
The Star TSP143III LAN Bundle is a Perfect Solution for Erply POS Software when using an iPad. It connects into your wireless modem (Router) and the iPad will communicate wirelessly across the network. The Cash Drawer plugs directly into the receipt printer and will open automatically once a transaction has been finalised.
The Bundle Includes:
1 x Star TSP143III LAN Receipt Printer
1 x Cash Drawer with 5 Notes & 8 Coins
1 x VPOS iPad Stand
1 x Box of 80x80 Thermal Paper Rolls (24Qty)
Erply POS Software is not included in the bundle price but feel free to visit the
Erply Website for information & Pricing.
Check out the below detail for individual products specifications.
Star TSP143III LAN Thermal Receipt Printer
STAR TSP143III LAN Thermal Receipt Printer, Ethernet (TSP143iii-LAN)
Introducing Star's super fast, entry-level Ethernet printer (10/100baseT, UTP) with LAN cable supplied & Virtual Serial Port.
This latest addition to the TSP100 Series provides a range of new features including a high print speed of 250mm/second, a guillotine auto cutter (cutter life 2 million cuts) as well as thin paper capability providing benefits not only for the environment but also the user's operating costs.
The cost-effective solution includes the convenience of an internal power supply along with a vertical mount kit in the box.
Other Features:
FAST 250 mm/second print speed
DROP-IN & Print paper loading
ULTRA white version available (indent only)
NEW guillotine auto cutter ( 2 million cuts)
CONVENIENT internal power supply
THIN paper capability (0.053 to 0.085mm)
DEVICE CHARGING 5v-1A USB trickle charging (iPad / Tablets / iPhone, etc.)
NEW AllReceipts Digital Receipting from Star Cloud Services
What's included in the Box?
Printer, 1.8m Power Cables
Vertical Wall Mount Kit
Sample Paper Roll
58mm Paper Guide
Power Switch Cover
Set Up Instructions
1m LAN / Ethernet Cable
Other Value Added Software Tools Include:
Invert Printing
Electronic Journal
Trigger Printing Coupons by Keywords
SDK (Software Developer's Kit)
Virtual Port
Warranty
All STAR MICRONICS printers are covered by a twelve (12) month warranty including all parts and labour.
EXTENDED THREE (3) YEAR WARRANTY
Extended warranty registration MUST be completed within the standard 12 month warranty period to qualify for extension.
VPOS EC-410 Cash Drawer
The VPOS EC-410 Cash Drawer is a solid steel cash drawer perfect for all Point of Sale Environments. By adding the under counter brackets you can easily mount the drawer giving extra security and make the installation neat & tidy.
MAIN FEATURES
Solid Steel Construction - 5 Note Holders, 8 Coin Slots
2 Cheque/Media Slots
Steel Runners & Derlon Rollers
24V Solenoid - Designed for connection to receipt printers
1.6M Cable with RJ12 plug (Standard Receipt Printer Connector)
Black Colour Only
Dimensions: 410mm (w) x 415mm (d) x 110mm (h)
Can connect to Receipt Printer or Manually Opened by Key
3 Year Return To Base Warranty
VPOS iPad Stand
The VPOS iPad stand is a great solution for your iPad POS System. It is silver and is flexible with different model iPads including the iPad Air 2 9.7", iPad pro 9.7" and iPad pro 10.5". This will also fit the Samsung Tab A 10.1".
It can be adjusted between Landscape or Portrait Position plus provides a 360 Degree rotation on the stand.
Main Features:
Compatible with iPad Air 2 9.7", iPad pro 9.7", iPad pro 10.5" & Samsung Tab A 10.1".
Enclosure can be adjusted to Landscape or Portrait Position
Free standing or 3M Tape and Screws supplied for multiple mounting options
Aluminium casting forming
360 degree rotation of stand
This product has a 3 Month Warranty.