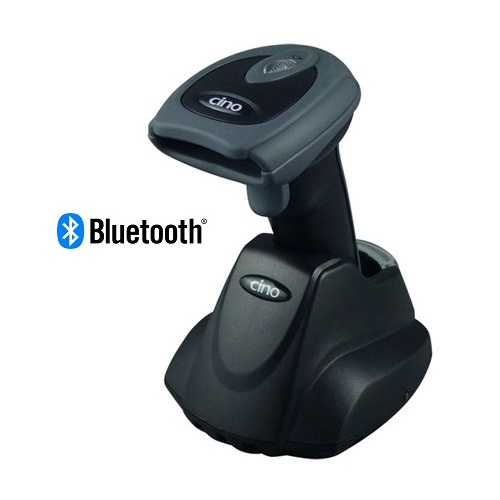 Cino FBC780 Bluetooth Barcode Scanner with Cradle
Brand: Cino
The Cino FBC780 is high quality and rugged bluetooth barcode scanner and comes with a cradle which has a USB Interface. 
The Cino FBC-780BT Scanner is a ruggedized, high Performance Cordless Image Scanner for Industry and General Purpose Applications.
Thanks to the convergence of the new innovative FuzzyScan 2.0 Imaging Technology and Bluetooth? wireless technology, the new FuzzyScan F780BT series Cordless Image Scanner from Cino impresses the user with high reading performance and ultimate freedom of cordless operation.
The F780BT expertly combines ruggedized construction with versatile features, thus providing an ideal cordless solution for industrial or general applications.
Intelligent Bluetooth Wireless Scanner
Ruggedized over-mold design to withstand multiple drops to concrete from 1.8 meter
Bluetooth 2.1 EDR wireless technology with more than 80m communication coverage
Plug-and-play cordless migration by working with smart cradle
Support multiple connections up to 7 scanners in PICO mode
Support both HID and SPP profiles to connect with most Bluetooth-enabled hosts
Memory storage up to 20,000 EAN-13 scans for batch scanning
Batch scanning function is ideal for inventory application
Support out-of-range scanning and auto-reconnection features
Outstanding reading capability on 3 mil barcode with more than 2" depth of field
More than 16" reading distance on 100%
UPC/EAN symbols
Unsurpassed readability on low contrast, smudged, poorly-printed or damaged barcodes
GS1 DataBar Linear-stacked, PDF, MicroPDF and composite code are supported
2 Year RTB Warranty. Excludes Batteries (User Replaceable)